Clever inventions by high school students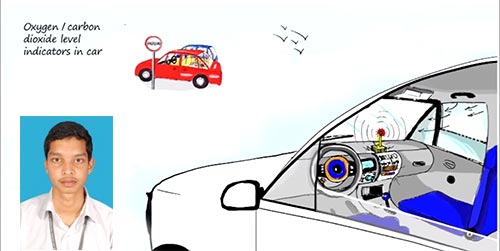 You will be surprised with the intelligence of these high schoolers. Check out these amazing inventions by child prodigies.
Oxygen/carbon dioxide level indicator in car
S R Salva has designed this indicator. He got the idea after reading about accidental deaths in car due to suffocation. The system measures the oxygen and carbon dioxide levels and automatically opens the window when carbon dioxide levels go beyond safe.
Automatic blade swinging ceiling fan for easy swinging
It is a tough task to clean a ceiling fan, however, Atheerth Chandra came up with a great idea for it. After the switching the fan off, the blades will loop down and they can be cleaned easily. The blades will go back to normal after switching on.
Step-lock system in bus
R Santhosh, J Rajasekar, A Nivashini, and K Rathna have developed a solution to stop people from travelling on steps of a bus. The mechanism will prevent the bus from moving if people are standing on stairs.
 Pen that checks concentration
Rudra Prasad Goswami has developed a pen which notifies the user if he/she is unable to concentrate on a particular topic. The pen has pressure sensors on the grip which indicate loss concentration when the grip loosens.
Low cost braille printer
Santokh Singh and Khushwant Rai have made a low cost braille printer after visiting a school for visually impaired and noticing how time consuming it was to print.
Image Reference: Rookiestew
What's new at WeRIndia.com