Clay refrigerator that keeps veggies and yoghurt fresh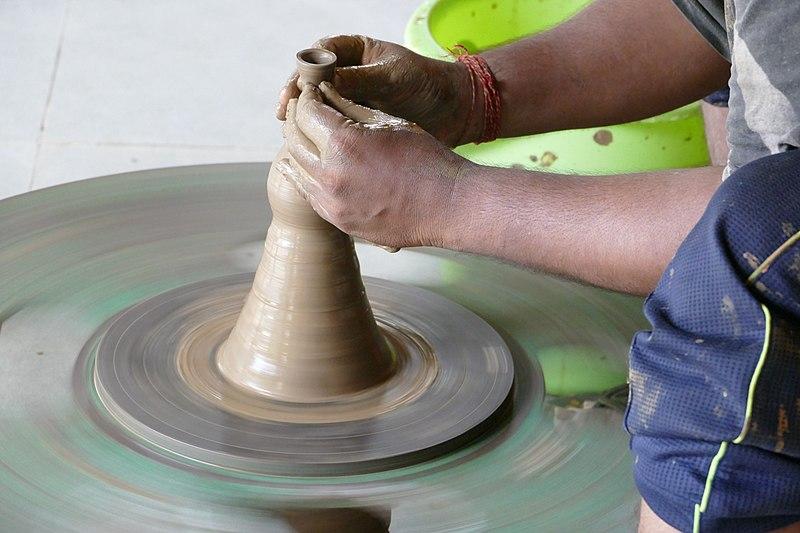 Age is just a number if you have passion and dedication. Many people proved it. This Tamil Nadu man also proved it once again.
M Sivasamy from Coimbatore, Tamil Nadu, made a clay fridge. He says that many young people are not showing interest towards pottery.
Raised in a family of potters, Sivasamy spent most of his life making earthenware. He realized that just doing pots and lamps would not meet the needs of customers.
It is important to adapt to the changing needs of customers to survive in the field. Otherwise, production will be restricted only to a few products. It eventually leads to the extinction of art.
Sivasamy made two variants of clay refrigerators. Their length is 1.5 feet and 2 feet. They cost ₹1,700 and ₹1,800.
The earthen fridge is in the shape of a cylindrical pot. It has a tap on one side. There is an outlet on the other side to pour water into the pot. There is a smaller pot, which fits in the bigger one. Users can keep vegetables inside the small pot and cover the pot with a lid. They can also keep yoghurt, milk and eggs.
The earthen pot keeps the water cool, and thus vegetables remain fresh and cool. The fridge can keep vegetables, fruits, milk, and yoghurt fresh for four days if they are stored properly.
Sivasamy made the fridge by mixing the clay in the exact consistency. He also made other parts of the refrigerator. He then dried them and checked the working mechanism. It took him around one month to make ten fridges. So far, he sold over 100 pieces.
He runs an earthenware store. Due to his vast experience in pottery, Sivasamy has mastered making various types of clay products.
That's why he made this clay fridge which does not require electricity. As power outages are common in most parts of the country, these fridges are helpful, especially to rural people.
Image Credit: Kritzolina, CC BY-SA 4.0, via Wikimedia Commons
Image Reference: https://commons.wikimedia.org/wiki/File:Pottery_workshop_at_Odisha_Crafts_Museum_08.jpg
What's new at WeRIndia.com