Auto-watering Device keeps plants alive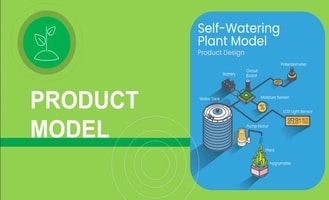 If you are growing plants in your home, then you might have worried about watering plants in your absence at the home to keep them alive.
That's why most people do not show interest in staying away from home for more than a day if they are growing plants.
Some people remain at home for the sake of watering plants or they would assign this task to some other people.
Pratyush Bansal and Aekas Singh Gulati, the Singapore residents used to visit their grandparents in India during their vacation.
But, every time, they found their plants had either withered away or were about to die in their absence.
The teens then decided to design an automatic watering system for plants to keep them alive.
Their device is designed for garden plants. It works on a pumping technique using a motor.
The teen duo designed their device with 80 per cent of recycled material and 20 per cent with hardware like a motor and a circuit board.
In order to design their devices, the boys learnt complicated coding languages for the self-watering device.
The automatic watering system needs a hygrometer to measure the humidity in the air. It also needs a motor, a circuit board and the required hardware.
The boys connected the hygrometer to the circuit board and placed it in the soil to detect the dryness in the soil.
When it identifies dryness, it sends signals to the circuit board which is connected to a motor inside a water tank to pump water into the soil through a pipe. It sends another signal after the soil is moist adequately and pumping would be stopped thereby.
The device costed just ₹665 for the boys to make. The duo is working to improve their prototype by adding a Wi-Fi enabled circuit board to link it with mobile phones directly.
Image Reference: Thebetterindia
What's new at WeRIndia.com