Visit Ekambareswarar Temple to be blessed with children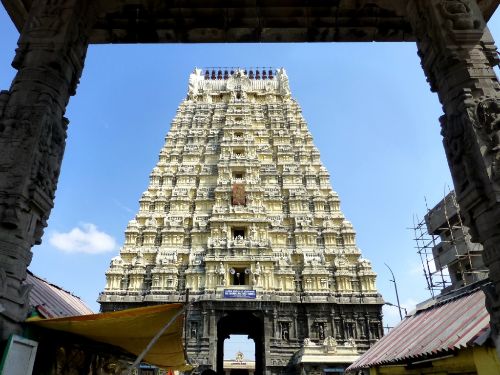 Certain temples are renowned for their unique blessings in the country.
Ekambarewarar temple in Kanchipuram, Tamil Nadu is one such temple. This temple is dedicated to Lord Shiva.
It is associated with the element of earth or Prithvi, one of the five elements of Pancha Bhootas.
Lord Shiva is worshipped as Ekambareswarar or Ekambaranathar here. The idol is mentioned as Prithvi Lingam.
The temple is one of the largest temples in India as the complex covers 25 acres.
It has four gopurams (gateway towers). The southern tower is the tallest with a height of 192 feet. It has 11 stories.
The temple complex has many halls but the most notable is the thousand-pillared hall that was built during the reign of Vijayanagar kings.
There is a huge mango tree which is believed to be 3,500-years-old. Its four branches depict four Vedas. They are said to yield four different types of mangoes like sweet, citric, spicy and bitter.
This mango tree is a temple tree. Locals believe that if a childless woman eats the mangoes she would be blessed with children.
One legend says that Shiva's consort, Goddess Parvathi worshipped him under this tree.
It is also believed that the image of the Lord had been created by the Goddess from sand to perform penance to attain him. During the month of Phalguna (February/March), the Sun's rays directly fall on the Main Shivaligam on 19th, 20th and 21st day.
The idol of Kubera is believed to bestow with riches to his devotees.
There are 108 Lingas in the temple. People lit 108 lamps to get moksha.
The temple has 12 zodiac signs on the roof. It is believed that when prayed to the specific zodiac signs at the temple, one can get rid of his/her horoscope defects.
Image Credit:– Hiroki Ogawa / CC BY
Original image Source: https://web.archive.org/web/20161030183805/http://www.panoramio.com/photo/119226735
Image Reference: https://commons.wikimedia.org/wiki/File:Ekambareswarar_Temple_Kanchipuram_India_-_panoramio_(1).jpg
Recent Posts

These IIT students designed a water purifier that

Lifaffa is a social enterprise.

Rupali Kakade, a Pune woman turned into an
What's new at WeRIndia.com