Talking Sai Baba idol in Vizag, AP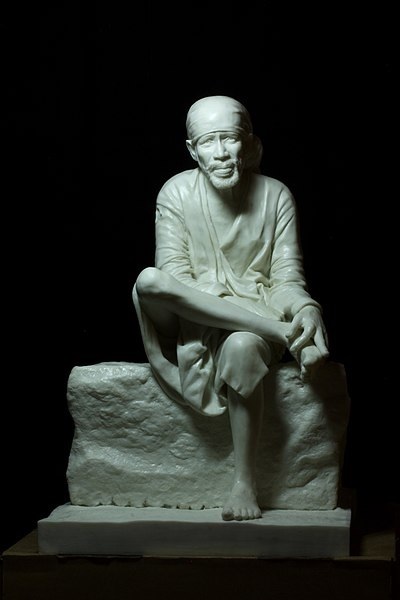 Many devotees are rushing to a temple in Visakhapatnam, Andhra Pradesh, to see the idol of talking Sai Baba.
The idol of Sai Baba has been designed recently and installed at North Shirdi Sai Baba temple in Arilova near Visakhapatnam.
Yardhala Ravi Chandra, one of the renowned artists in making such idols has designed the idol. Ravi Chandra is a graduate of Fine Arts from Andhra University.
He made more than 200 idols of Sai Baba in different sizes and shapes. But it is his best-ever made design with realistic movements. But it is his best-ever made structure, with realistic movements. It is based on animatronics.
The idol of Sai Baba is in a cross-legged seating position, moving its head and blinking its eyes while talking. The wonderful Baba idol is attracting many people from surrounding areas.
Ravi Chandra was contacted for making the idol six years ago. However, he did not have experience in electronics and robotics. So, he was hesitant to accept the project. However, he wished to take up the task. He claims that it is the first-ever divine robot statue in the country.
Though it was challenging for him to design such a structure, he finished it successfully with the help of sensors, microchips, motors etc.
He used silicon, clay and soft plastic to make the idol. The idol of Sai Baba looks like a human and impresses with realistic motions and movements.
It took around three years for him to design the structure. With the help of a team of 10 workers, he finished the task.
Many devotees applauded Ravi Chandra for his excellent work as he has given life to the idol. They feel like Baba is talking to them as the facial expressions seem so natural.
Not only facial expressions but the voice synchronization and the movement of eyes and head also mesmerize devotees.
Image Credit: Avanivineesh, CC BY-SA 4.0, via Wikimedia Commons
Image Reference: https://commons.wikimedia.org/wiki/File:Shirdi_sai_Baba.jpg
What's new at WeRIndia.com