Significance of Ratha Saptami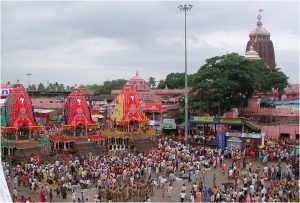 Tomorrow is Ratha Saptami or Magha Saptami. It is an auspicious day for Hindus.
Ratha means chariot. It is believed that the chariot of Sun God or Surya which is drawn by seven horses moves towards northern hemisphere on this day.
People also celebrate it as the birthday of Sun God. From this day, the season changes to spring and it is the onset of harvesting.
Many Indians celebrate this festival and numerous temples observe this festival through the country.
One-day Brahmotsavam is held in Tirumala on Ratha Saptami. The number seven has significance on this day.
The day Ratha Saptami falls on the seventh day of Magha month. The chariot of Sun God is drawn by seven horses.
It is believed that observing fast and worshiping the Sun God on Ratha Saptami will redeem one from seven types of sins – sins committed by words, body and mind, knowingly and unknowingly, and sins in the present as well as in the past birth.
One should take bath one and half an hour prior to sunrise on this day. Arka leaf or Calotropis gigantea is holy to Sun God.
The shape of the leaf symbolizes the shoulders and chariot of Sun God.
Hence seven arka leaves are placed on the body, one leaf on the head, two leaves on the shoulders, two leaves on knees and two leaves on the feet while bathing.
Homes are decorated with Rangoli and rice powder which shows a chariot with seven horses to represent Ratha Saptami.
Surya Namaskara or sun salutation exercises are performed.
Holy rituals are performed as well along with chanting of Hymns and Mantras.
Flowers and food are offered to Sun God.
Ratha Saptami or Surya Jayanthi has religious significance.
It is believed that the seven horses of the chariot represent seven colours of the rainbow.
They also represent seven days of the week. The chariot has 12 wheels which symbolizes 12 zodiac signs.
Each wheel has 30 spokes and the 360 degrees of a wheel signifies a year.
Image Source:- I, G-u-t / CC BY-SA
Image Reference: https://commons.wikimedia.org/wiki/File:Rath_Yatra_Puri_07-11027.jpg
Recent Posts

The government rolled out the ONDC initiative in

The function of the salivary gland is impaired

Shubham Saini runs a tea stall named Frustrated
What's new at WeRIndia.com