Significance of Sindhoor Khela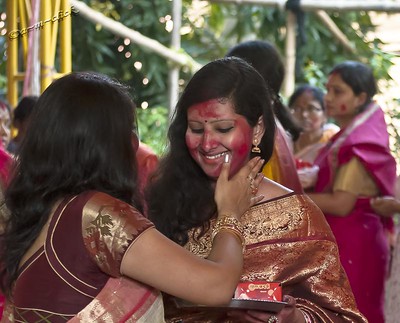 Sindhoor Khela is one of the popular traditions followed by married Bengali women on the day of Vijayadashami.
This ritual has great significance in their culture.
All married Bengali women put on sindoor or vermilion on Maa Durga's forehead and feet on Vijayadashami. After that, they smear it on other married women around them.
Sindhoor Khela is an age-old tradition that dates back to 400 years.
There is a legend behind the tradition. The legend says that Maa Durga comes to her parents along with her sons and daughters each year during the festival.
She stays there for four days and returns to her husband, Lord Shiva on Vijaya Dashami.
In a bid to say goodbye to the Goddess, women apply sindoor on Goddess Durga's feet and forehead. They also play with vermilion with other women.
Women pray to Goddess for a long and blissful marital life.
They also follow certain rituals before and after Sindhoor Khela.
Goddess Durga is worshipped as Aparajita on Vijayadashami. They offer Maha Arati to the Goddess to conclude the prayers and rituals of the puja.
Prasad with Kochu Shaak, Panta Bhaat etc. is offered to the Goddess.
After that, Visarjan puja is followed where devotees request the Goddess to go back to her heavenly abode. All devotees stare into a mirror that is positioned in front of the Goddess to have a glimpse of her feet.
Devi Boron is the ritual of saying goodbye to the Goddess by all married women gathered at one place. They put on sindoor on her and offer betel leaves and sweets to the Goddess. After that, they smear vermillion on each other and share sweets.
Later the idol of Goddess is carried out for visarjan and immersed in the Ganga.
Image Credit:- "Color of Joy" by Arindam MitraFollow is licensed under CC BY 2.0.
Image Reference: https://www.flickr.com/photos/46852192@N03/8121519256
Recent Posts

GST is a sensitive subject in business circles,

Online casinos that accept Indian players offer enticing

Uber rolled out a new service for its
What's new at WeRIndia.com