Navratri Celebrations and their Significance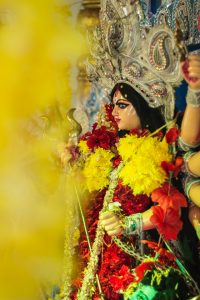 Navratri is a festival of nine nights celebrated throughout India with joy and fervor on the eve of the Goddess Durga killed demon Mahishasur by fighting for nine nights and ten days.
Durga puja is performed on these days. Fasting and feasting are common in these days.
The last three days are the main festivals known as Durgashtami, Mahanavami and Vijayadashami.
This festival is also known as Dussehra or Dasara and appears on the tenth day of Ashwin according to the Hindu lunar calendar which usually falls in the month of September or October in Gregorian calendar.
Many stories are associated with this festival.
The victory of Rama over Ravana and the end of Agnathavasa (incognito) of Pandavas are popular.
Certain places in India are popular for Dasara celebrations.
Kolkata in West Bengal, Ahmedabad in Gujarat, Mysore in Karnataka, Vijayawada in Andhra Pradesh, Mumbai in Maharashtra, Katra near Jammu, Kulu in Himachal Pradesh, Delhi, Kota in Rajasthan, Danteshwari in Jagdalpur and Ram Nagar near Varanasi are some of them.
This year, the festival starts from today i.e. September 25, 2014 and ends by October 3, 2014.
Worshipping power and energy by worshipping Goddes Durga is the significance of this festival.
The festival is mainly related to girls and pujas are performed accordingly. Goddess Durga is decorated in various forms on these nine nights and devotees wear different colours of clothes to worship her.
On the very first day of the festival, Kumari is worshipped which signifies the girl child.
Parvathi is worshipped on the second day which represents the young woman and the third Kali is worshipped which symbolizes the woman who attained maturity.
Days 4 to 6 are dedicated to worship Goddess Lakshmi, the goddess of prosperity and wealth, next two days are dedicated to worship Goddess Saraswati, the goddess of knowledge.
The last day is devoted to Goddess Durga, the goddess of power and energy.
Different traditions are followed in various places across India to celebrate this festival.
But, the common traditions include fasting, feasting, performing pujas all 9 days, wearing new clothes, making special recipes, visiting temples and exchanging gifts to each other.
Image Reference: https://www.pexels.com/photo/bengali-durga-puja-dushera-festival-325061/
Recent Posts

There are certain rules and customs duties for

Vitamin B12 is commonly found in meat, fish

These IIT students designed a water purifier that
What's new at WeRIndia.com