Virat Kohli breaks up with Anushka after pressure from BCCI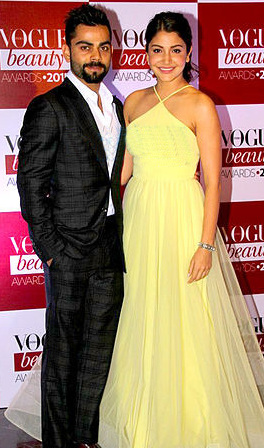 The crucial semifinal match in the cricket world cup would have been very different if Virat Kohli did not score just one run. Many people started blaming the couple's romance as a factor for Virat's poor performance.
As soon as India lost the match, jokes about Virat and Anushka became viral. The couple became the face of India's loss. Due to the immense blame and angry tweets, the BCCI has asked Virat Kohli to call it quits on his romance in order to prevent further shaming of team India.
"We asked Mr. Kohli to stop his relationship with Ms. Sharma as it is causing a lot of image damage to the team, he will have to comply with our request or temporarily leave the team until he decides", says BCCI President Jagmohan Dalmiya.
Kohli accepted the decision due to the immense pressure from BCCI and his fan base. Much to the delight of his fan base, he tweeted "There you go everyone, now the jokes can stop. It's getting unfunny. #repeatedjokes #sorryanushka" (sic).
Before the semifinal, Anushka Sharma stated that she would not be attending the match because people would call her a bad luck omen if the team lost (which is what happened). Yet, she attended the match.
The reason for this is that Virat wanted her to attend the match, according to sources. The blame seems to be justified because Virat Kohli did state that he felt a bit distracted, which explains the lazy shot that cost him his wicket.
May we also remind our readers that tomorrow is the 1st of April, and this is a fake article. None of what is written above is true.
Image Credit:- Bollywood Hungama / CC BY
Image Reference: https://commons.wikimedia.org/wiki/File:Anushka_Sharma_and_Virat_Kohli_at_Vogue_Beauty_Awards_(cropped).jpg
What's new at WeRIndia.com