PM to launch another Vande Bharat Express train tomorrow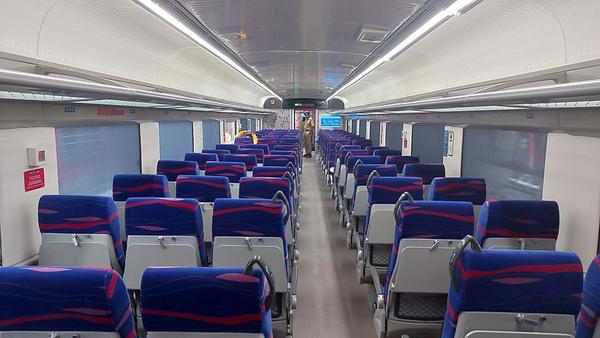 India's fastest train, the Vande Bharat Express, will be launched on 1 April between Bhopal and New Delhi. Prime Minister Narendra Modi will flag off the train.  As per sources, the PM will launch the Bhopal-New Delhi Vande Bharat Express tomorrow.
It is all set for the launch. Vande Bharat Express is also known as Train 18. It is the fastest train in India and is designed and built by the Integral Coach Factory in Chennai.
This train will be the 11th Vande Bharat Express train in India. It will cover a distance of 708 km in just 7 hours and 50 minutes, making it faster than the Shatabdi Express.
The train will run at a maximum speed of 160 kmph and will have many new features. These include automatic doors, bio-vacuum toilets, and onboard Wi-Fi.
The launch of the Vande Bharat Express is part of the Indian government's efforts to modernize the country's railway infrastructure and improve connectivity.
The train will provide a comfortable and safe travel experience to passengers. It will also help to promote tourism and boost the economy in the region.
The Vande Bharat Express has two executive chair cars and 14 non-executive chair cars. It has a total seating capacity of 1,128 passengers. The coaches have improved interiors and LED lighting.
They also have modern amenities, such as a GPS-based passenger information system and a state-of-the-art CCTV surveillance system for the safety of passengers.
The Vande Bharat Express has been a flagship project of the Indian Railways. It has received praise for its design and speed since its launch in 2019 between New Delhi and Varanasi.
The train has become a popular mode of transportation for passengers travelling between the two cities.
With the launch of the Bhopal-New Delhi route, the train is expected to serve more passengers and contribute to the development of the railway infrastructure in India.
Image Credit: Sameer2905, CC BY-SA 4.0, via Wikimedia Commons
Image Reference: https://commons.wikimedia.org/wiki/File:Interiors_of_the_2nd_Generation_of_the_Vande_Bharat_Express_trains.jpg
What's new at WeRIndia.com