India retorts to China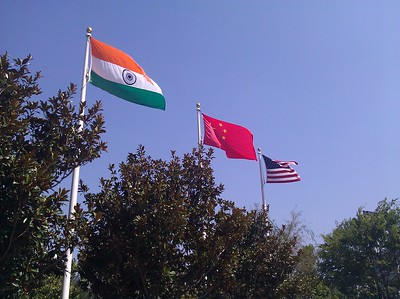 After the remarks from China that India's bid to join the Nuclear Suppliers Group (NSG) is a parting gift from US President Barack Obama, India gave its reply back.
External Affairs Ministry spokesperson Vikas Swarup has retorted back to China that India's bid to join NSG has nothing to do with US President Barack Obama and is purely based on India's non-proliferation record.
China's foreign ministry spokesperson Hua Chunying has made these remarks recently about India.
It is common knowledge that China has been against India joining NSG since the beginning.
So these remarks were not a surprise to anyone.
The whole war of words sparked after a high ranking official from the Obama administration said that China is an "outlier" regarding India's bid.
Even though China has been a big hurdle for India to join the group and Chunying has made remarks, the US envoy of India, Richard Verma said that there is likely to be good news soon.
Even with the Trump administration taking over soon, Verma said that the Chinese non-cooperation has a good chance to be overcome, allowing India to join the elite group.
Verma further stated that due to the fact that such matters are complicated and requires many approvals from various countries, they take time.
He said that it is important to continue working with all the countries including China to make progress and finally reach the goal.
India has received approval from most of the NSG members but China has always blocked India from joining.
Their block is based on the grounds that India hasn't signed the Nuclear Non-Proliferation Treaty.
India isn't the only one running for a spot on NSG.
Pakistan is also after getting a membership in the elite group.
The NSG is formed of major countries with significant nuclear ability.
They control the export of materials and technology used to manufacture nuclear weapons.
Image credit: Flags @ Cisco image by Danny Howard is licensed under CC BY-SA 2.0
Image Reference: https://www.flickr.com/photos/dannyman/8519951206/
What's new at WeRIndia.com