Ace the Race with this Expert Advice on IELTS and Free Study Material!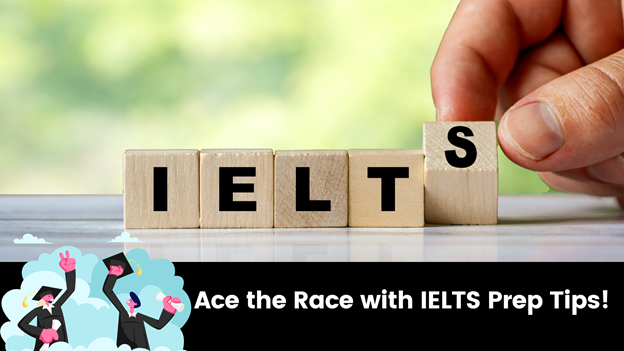 IELTS, known as International English Language Testing System, is an English Language Proficiency Test required to pursue abroad studies. IELTS Preparation begins with a diagnostic test. Always remember – "By failing to prepare, you are preparing to fail." To score well in the IELTS exam, it is crucial to start preparing on time. Finding out the strength and weaknesses is very much essential to take IELTS Practise Tests.
IELTS Preparation includes online courses, practice sample papers, sample answers, books, official study materials, etc., to understand the exam pattern. The duration of the test is 3 hours. To score well, candidates should need 3 to 4 months for IELTS preparation. Candidates who are going to appear for the examination can bookmark this blog for IELTS Preparation.
IELTS Preparation Tips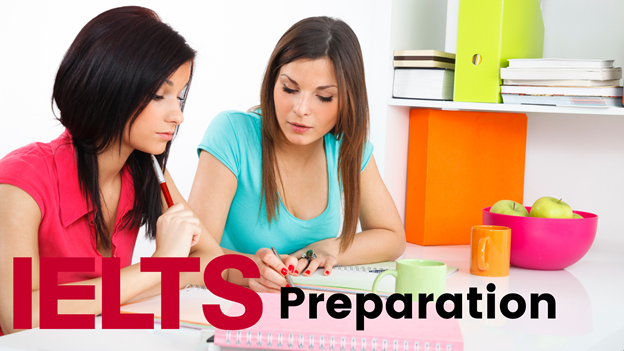 To make a study effective, it is very important for candidates to follow the right strategy to prepare for IELTS.
Understand the format of the test:

For IELTS preparation, candidates should be very much familiar with the format of the test. It will be easier for aspirants to attempt questions if a candidate is aware of the format of the test. IELTS examines candidates based on four skills – Reading, Writing, Listening, Speaking. The details of the four sections are discussed in the below table:
| | | |
| --- | --- | --- |
| Sections of IELTS Test | Details | Time Duration |
| Reading | 40 questions, 3 sections | 60 minutes or 1 hour |
| Writing | 2 tasks | 60 minutes or 1 hour |
| Listening | 40 questions, 4 sections | 30 minutes |
| Speaking | 3 parts | 11 to 14 minutes |
Practice IELTS:

It is said that Practice makes a man perfect. To score good in IELTS, it is very important to practice IELTS which will give an idea of the type of questions that will be asked in the exam.

Try to build your own vocabulary:

To build or focus on improving vocabulary, candidates should read books, newspapers, and etc.

Set own IELTS goals and priorities:

Aspirants will find their strengths and weaknesses, once they start practicing. If they work on their weakness, they will be well prepared by the time they attempt the test. Candidates should set their main goals and priorities.

Attempt mock tests on a regular basis:

To crack IELTS Test, it is very essential for candidates to attempt the mock tests on a regular basis. Candidates should attempt mock tests as many as possible.
IELTS Preparation Tips: Listening Section
The Listening section is the essential part of the IELTS test. It consists of 40 questions and four sections. The IELTS Preparation Tips for the Listening Section are discussed in the below points:
Before the recording starts, candidates should carefully read each section's questions, which will help identify the answer and follow the recording.

Candidates need to remember all the essential information to the questions because the recording will get played only once.

They should note the limitation of words.
To identify the answer, try to listen to the synonyms or keywords.

Candidates should practice reading questions, listening, and point out answers all at the same time.

Listening and attending to group discussions is one of the best preparation tips for the IELTS test.
IELTS Preparation Tips: Reading Section
The reading section helps to evaluate the reading skills of the candidates. In this section, candidates are given long articles to read, followed by summary writing, sentence completion, multiple-choice, short answers, and matching information. The IELTS Preparation tips for the Reading test are mentioned in the below points:
IELTS Reading sections consist of 14 questions if candidates follow IELTS online classes. Candidates should practice handling each type of question.

Try to read as much as possible. First, begin with Newspaper, a short paragraph, or even an Advertisement. After that, go for heavy reading materials like editorials, long essays, and short stories.

While reading, try to make notes. Making notes will help to improve the ability to search for details.

Practice comprehensions for the preparation process. This will help a lot in the preparation.

Candidates should repeat the exercise as it will help keep them updated and find new points in the exact text when the candidates re-read it.

For the IELTS reading passage, candidates will get 2 minutes. So, regularly practice reading at home. While reading, always scans the most important information, which will bring speed in answering questions.

Try to practice paraphrasing and also learn phrases and new words.
Candidates will not get any extra time. So, be careful of the time limit.
IELTS Preparation Tips: Writing Section
The IELTS Preparation tips for the Writing Section are discussed below:
As a part of the preparation, it is essential to write sample essays.

Practicing grammar plays is another IELTS Preparation tip for the Writing section. As it is an English level Exam, so more importance can be given to grammar. So, all articles should be grammatically correct.

Candidates, while answering, should underline the critical words, and this works as a reminder.

They should not write unnecessary statements and responses and must stick to the topic.

Avoid repetition. Always practice paraphrasing magazine articles and newspapers.

Always try to keep track of time.

Try to practice writing the IELTS writing task – 1 in 20 minutes and task – 2 in 40 minutes.

The word limit for the

IELTS writing task – 1

is 150, and for the task – 2 in 250 words. So, try to practice writing within the word limit.

Write relevant answers and to the point.

Using active voice, write short sentences.
IELTS Preparation Tips: Speaking Section
For the IELTS test, the speaking section is one of the most interesting sections. It involves one-on-one live interaction. This test analysis candidate proficiency in speaking English within the duration of 11 to 14 minutes. IELTS Preparation Tips for the Speaking Section are mentioned in the below points:
Candidates should be confident and talk fluently as much as possible. This is the section where candidates enjoy English speaking.

Try to practice speaking in front of the mirror. This will help to build confidence in the candidates.

Practice at home by recording responses on tape. Thus it will help to find out candidates' mistakes and pronunciation.

Candidates should avoid using words like "uh, um, ah, er, right, okay" while responding.

Always try to practice speaking in English with family and friends.

During the speech, always use easy and informal language.

Throughout the speaking section, candidates should be responsive and quick.
IELTS Preparation Books
For IELTS Preparation, some of the recommended books that candidates can follow are mentioned below:
Students can get these books from any local stores or from Amazon or Flipkart.
This article will give a brief idea of the preparation tips for those candidates who are going to appear for the IELTS test. But again ideas without execution are useless. So candidates must refer to the tricks mentioned here and try executing the same as well. Please share this article with your friends further.
Image Reference: Collegedunia
Recent Posts

The government rolled out the ONDC initiative in

The function of the salivary gland is impaired

Shubham Saini runs a tea stall named Frustrated
What's new at WeRIndia.com