Health Benefits of Sunflower oil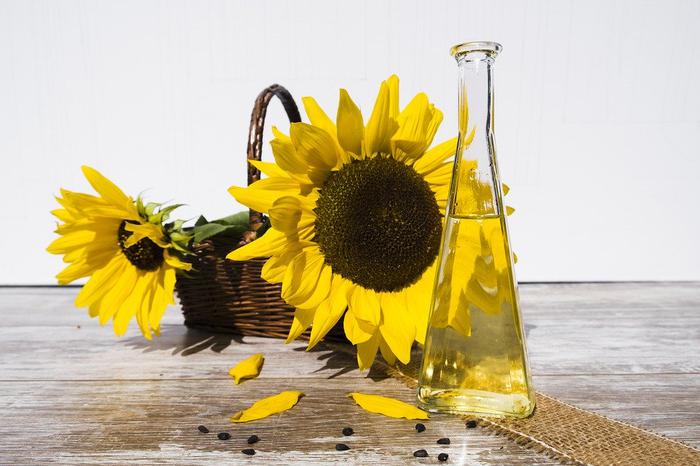 Sunflower oil is obtained through sunflower seeds.
It is rich in health-enriching nutrients. Being rich with polyunsaturated fat, it is better than coconut oil.
Sunflower oil has a different taste. However, it is considered as good for health.
Here is a list of health benefits of sunflower oil:.
Sunflower oil improves immunity to defend the body against infections. It is rich in vitamin E and antioxidants and hence can protect from free radicals.
The oil has lecithin which helps reduce bad cholesterol in the body. It also maintains good cholesterol levels.
Sunflower oil is loaded with selenium to lower the risk of cardiovascular diseases. It protects

heart health

. The phytochemicals like choline and phenolic acid in this oil are useful to the heart.
It increases energy production due to various nutrients in it.
It eases digestion and reduces constipation.
Loaded with vitamin E and antioxidants, it prevents the risk of cancer especially colon cancer.
The carotenoids present in sunflower oil prevent the risk of skin, lung and uterine cancers.
The topical application of sunflower oil treats Athlete's foot, a fungal infection of the toes.
Sunflower oil reduces the severity of arthritis.
It protects the skin from the ultraviolet rays of sun.
The anti-inflammatory properties in the oil help treat respiratory problems.
Sunflower oil rejuvenates the skin. It treats skin problems like redness and rashes on the skin when applied topically.
It helps fight against acne.
It eliminates dead cells from the skin and helps it shine.
Sunflower oil has gamma alpha-linolenic acid (GLA). Hence, it prevents hair loss and improves the thickness of hair.
It works like a conditioner by nourishing the hair.
The oil also softens the hair.
Image by Bruno /Germany from Pixabay (Free for commercial use)
Image Reference: https://pixabay.com/photos/oil-sunflower-oil-cooking-oil-food-2759779/
Recent Posts

Buns & Deluchas is a Mumbai startup that

An e-Mudra loan can be available online to

Cassie, a bipedal robot, set a Guinness World
What's new at WeRIndia.com