Health benefits of Peepal Tree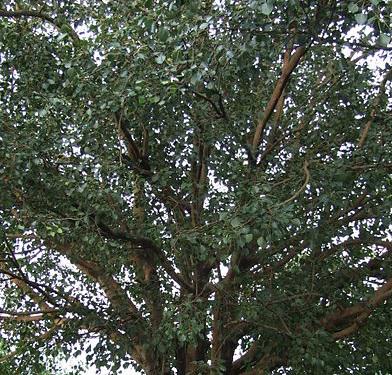 Peepal tree is commonly used in Ayurvedic medicine.
It has many health benefits. Peepal tree in English is known as sacred fig.
There are many health benefits for this tree.
Here are some of them.
According to Ayurveda, using extract of Peepal leaves can help treat likoria. Powder made from the leaves can also be used for this purpose.
Peepal leaves are also quite beneficial in treating Dhat syndrome. They are also used for treating premature ejaculation, night fall (wet dreams) emission and physical weakness. Powder from their fresh leaves can be quite useful. The fruit powder of Peepal tree is used to increase sperm count.
The powder of this fruit is also used to treat women infertility. Old aged peepal tree beard or tress powder is used to treat infertility. The powder should be mixed with fruit and milk daily and consumed twice a day.
3-4 drops of fresh leaves extract is used in Hemorrhage treatment. Use 5-7 drops of peepal leaves as prevention.
Use one spoon of powdered fruit with sugar candy to treat physical weakness.
The tea of peepal leaves can help treat stomach disorders.
This herb is also used in ulcer treatment. According to Ayurveda, Peepal bark and cow dung is used to treat intestinal ulcers. Use this herb with honey if you are diabetic and want to treat ulcers.
Honey and Peepal mix can also be used to treat wrinkles. The herb is known to have anti-aging properties.
In Urticaria treatment, the mixture of kali mirch, ghee and peepal leaves is used.
Applying the paste of peepal leaves on the inflammation helps treat it.
Drinking the extract of peepal leaves is recommended for Hysteria and Epilepsy.
Peepal tree fruit powder is used to treat respiration system diseases. It is even helpful in treating breathing disorders or Whooping cough.
The fruit and bark of peepal tree is also used in Gonorrhea treatment.
Image Credit: Wiki-uk / CC BY-SA 3.0
Image Reference: https://commons.wikimedia.org/wiki/File:Siliguri-peepal-tree-2.JPG
Recent Posts

Online casinos that accept Indian players offer enticing

Uber rolled out a new service for its

There will be crypto exchange platforms to deal
What's new at WeRIndia.com