Health Benefits of Bamboo Rice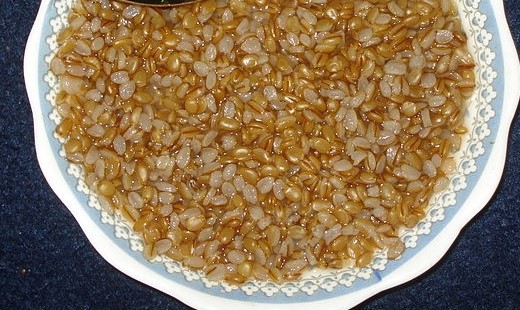 Bamboo rice or Mulayari is collected from the seeds of bamboo flowers and infused with bamboo extract or juice. In other words, this rice is made of dried bamboo seeds. Hence, it is in green colour. It tastes like wheat. It is sweet and pungent. It can be cooked like rice.
Bamboo rice has many health benefits:
Bamboo rice is nutritious as it contains many vitamins and minerals. It is rich in iron, calcium,

vitamin B

and many essential amino acids. In addition to that, it is loaded with plenty of antioxidants.
As it contains numerous flavonoids which have anti-inflammatory properties, it can help prevent rheumatoid arthritis and improve bone health. It also can lower back pain and joint pain.
Loaded with vitamin B, bamboo rice prevents several health conditions like anaemia, cognitive disorders, seizures etc.
It helps treat cough and cold. It also eases the

symptoms of asthma

.
Bamboo rice has a low glycemic index; hence it is better than normal rice for diabetics. However, it is better to take the advice of your physician before consuming it regularly.
The protein content in this rice helps in proper growth and development. The fibre improves the function of the digestive system. The fibre also helps in weight loss by controlling your consumption of food.
It is packed with phytosterols which lower the levels of bad cholesterol in the body. Thus, it can prevent cardiovascular diseases.
It stimulates two vital neurotransmitters, dopamine and serotonin. These improve the mood and the function of the brain.
Some studies in rats showed that bamboo seeds improved fertility. The same result is expected in humans as well. Besides, bamboo oil extracted from bamboo seeds is believed to treat endocrine disorders and thereby

infertility in women

. It can also boost ovulatory functions in women.
Image Credit: Reji Jacob / CC BY-SA 3.0, via Wikimedia Commons
Image Reference: https://commons.wikimedia.org/wiki/File:Baamboo_Rice_Soup.jpg
What's new at WeRIndia.com