Woman who struggled for daily needs, becomes a millionaire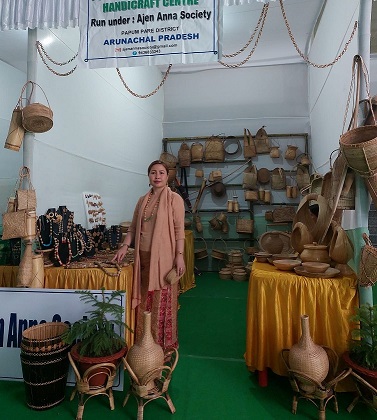 Techi Anna never expected that she would become an entrepreneur. Hailing from a poor background, she could not continue her studies after class 8.
At the age of 16 years, she was married to a man 10 years elder. Her husband was unemployed. They started their life in Arunachal Pradesh.
Techi's life was tough as her husband had not put any effort to search for work. Besides, they had three children, and it was difficult for them to meet their daily needs.
Then, she started selling clothes and imitation jewellery. However, she could not make decent money to meet the needs of her family.
While Techi was struggling, there was a turning point in her life in the form of the Panchayat elections.
She contested in the elections and was elected as a member in 2009. She started to interact with people, which paved a way for her to learn new concepts.
At that time, the Governor of the state visited her village and said that the government was ready to set up a bamboo cottage industry there.
As Arunachal Pradesh is well-known for bamboo species, Techi wished to use the opportunity. She had undergone training to make appealing designs and creative products to attract customers.
Techi started making bamboo products like hats, storage boxes, baskets etc. She used to handcraft them and sell them in the local market. Her products were so attractive that she was able to sell all of them she made in a week.
The demand for her products had grown. As she could not meet the demand alone, she started engaging other women. She launched Poma Bamboo Processing Industry to make and sell bamboo handicrafts, jewellery and furniture.
Now, her enterprise has more than 26 full-time artisans. In addition, small entities also work with her to make cutlery, lamps, baskets, chandeliers, home décor items, and many more items. The workers are paid in the range of ₹10,000 to ₹20,000 per month based on their skills.
As the products are in the affordable range, they are purchased by many people. The business clocked a revenue of ₹50 lakhs during the financial year 2022.
In addition to selling bamboo products, Techi also offers training in making bamboo handicrafts. The course fee is ₹8,000 per person for two weeks, including boarding and lodging.
Image Credit: Poma bamboo Processing Industry Facebook page
Image Reference: https://www.facebook.com/374035430090962/photos/a.374045650089940/1180132326147931/
What's new at WeRIndia.com