Woman survives only on Coffee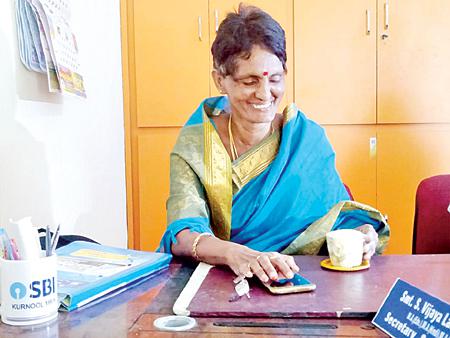 How many days can you survive without food? 3 or maybe 4 days, but this woman has been surviving for more than 40 years without eating a solid food.
She survived by consuming just coffee.
Her name is Vijaya Lakshmi. She is working as correspondent in a private engineering college in Kurnool.
Vijaya Lakshmi has not shown much interest in food since her childhood. She used to eat jowar roti made by her mother with butter till her primary school education.
Her food habits changed after joining in high school. She had to travel 3km daily as her village does not have high school. At that time, she often skipped meals as she felt that carrying a lunch box was a burden.
She used to drink coffee to substitute the meal as they have several buffaloes in her home. Later, she habituated to it and stopped solid diet completely.
Her husband tried to change her habit in the initial days of her marriage, but his efforts went in vain.
Even, the doctors they consulted said that her health is good as coffee does not show any adverse effects on her body.
The routine coffee consumption of Vijaya Lakshmi starts from morning 5. Till then, she drinks a cup of coffee every hour.
She daily consumes 20 to 30 huge cups of coffee with 2 litres of milk.
Vijaya Lakshmi wakes up by 4:00 a.m. and then does puja. After that, she performs yoga along with her husband. She does not have any health disorders even though she has been surviving on coffee without taking any other diet.
She feels tired and suffers with headache if she does not drink coffee. She gets stomach acidity if she drinks buttermilk.
She does not eat anything even in marriages and other such occasions. She cooks very well for her family members.
Image Reference: The Eenadu
What's new at WeRIndia.com