Whiz kid that impresses Satya Nadella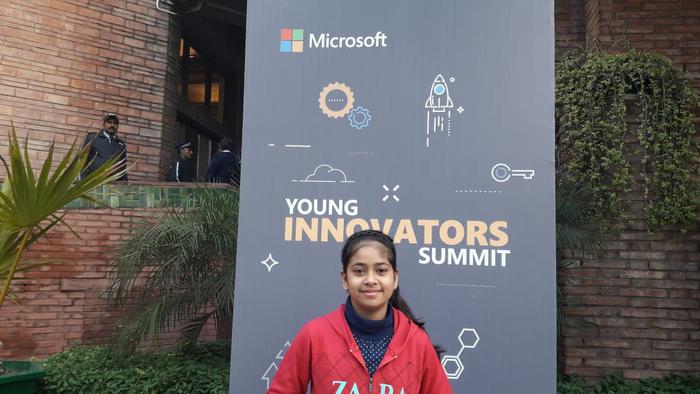 Namya Joshi is a 13-year-old girl. This whiz kid impressed Satya Nadella, CEO of Microsoft.
Namya is studying class 7 in St Paul Mittal School in Ludhiana. She got an opportunity to participate at the Young Innovators Summit of Microsoft, 2020 held in New Delhi where she shared her journey of utilizing technology to learn.
She also helped her teachers use it for interactive teaching. She expressed her interest in Minecraft sessions.
Satya Nadella was impressed by her story. He appreciated the work of young innovators like Namya on Twitter.
Minecraft is a lego styled video game owned by Microsoft. Namya got into Minecraft accidentally.
One day she won a competition in school and her mother allowed her to play games on that day. She then got the opportunity to use Minecraft for the first time.
She later realized that the game has great potential to be used as a teaching method.
She used it to create an easy way to help her friends grasp difficult topics or concepts.
Namya says that the Minecraft model helped her friends understand certain concepts better. Her mother encouraged her to use it to explore the ways for her academics.
This helped Namya get a good understanding of the game for not just her studies but for creating interactive teaching methodology for her teachers as well.
Her teachers surprised Namya playing the customized game for a class environment. They then wanted to learn more about it from her.
Namya helped her teachers create materials for classes using Minecraft. She trained nearly 100 people on the use of various Microsoft tools like Minecraft, Scratch, and Flipgrid across the globe.
She was appreciated by Satya Nadella for her extraordinary work.
Being a whiz kid, Namya received several awards for her innovative ideas. She won the National Minecraft Competition as well.
She has been nominated to be an ambassador for the country for Sustainable Development Goals for Children.
Namya wants to explore ways to incorporate Minecraft into daily lives. She aims to work at Microsoft in the future.
Image Reference: Thebetterindia
What's new at WeRIndia.com