Story of Lord Jagannath's Bodyguard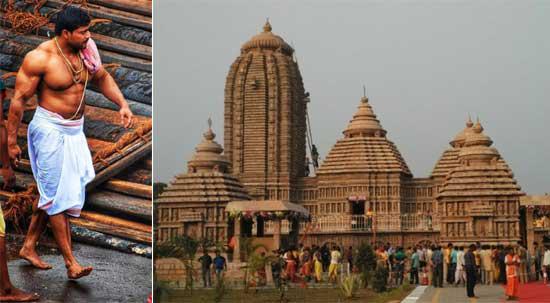 Anil Gochikar is a Servitor of Lord Jagannath. Locals call him as the bodyguard of Lord Jagannath. He is a bodybuilder. Surprisingly, he is completely vegetarian.
His images have been viral on social media for the past few days. Anil Gochikar wears traditional Indian dhoti.
He does not eat any meat, fish or even eggs. A vegetarian diet is considered as the best diet as per the scriptures.
Being the bodyguard of Lord Jagannath, he eats cooked food in a pot of clay as the Prasad in the temple.
His mother looks after his diet which consists of full veggies and fruits. He depends on milk and milk products like cheese for his protein.
However, he does not consume milk during the time of competitions. At that time, he uses whey protein, mass gainer, multivitamins and pre and post-workout supplements.
Anil started bodybuilding for his brother. His brother Damodar is also a bodybuilder who had to leave his sports after the death of his father. His father served as a Pandit in Puri temple.
Anil Gochikar is an international bodybuilder who bagged the tile Mr International Indian in 2016. Yet, he was not supported by the authorities. It was his family that supported him a lot.
Anil recollects that when he won in the international competition in Dubai, no one was there with him to celebrate his joy.
He cried a lot and called his mother who turned his saddest moment to the happiest moment with her kind and pleasing words.
Anil spends five hours daily in the gym during competitions. He has his gym in Puri district.
Anil is a lawyer by profession and started bodybuilding when he was 30. Anil was married at 25 years. He has a daughter.
Image Reference: Eenadu
What's new at WeRIndia.com