Runner without arms or legs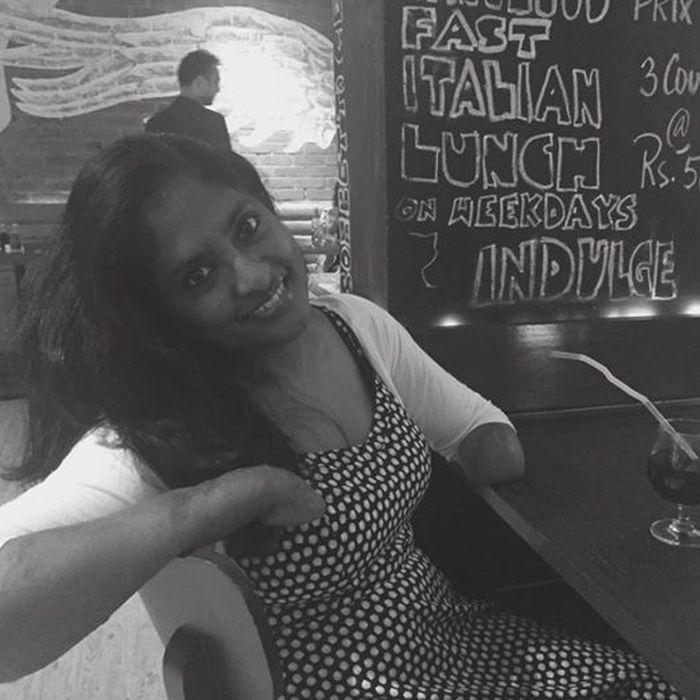 Shalini Saraswathi, pregnant at the time, began to feel suddenly ill after a return from a vacation in Cambodia.
The illness became much more serious, bringing her to the brink of death with multiple organ failures, eventually losing parts of both her arms and legs due to a rare bacterial infection.
However, she is now an avid blade runner who does not give up in the face of adversity, and has run in several races, such as the TCS 10K in Bengaluru.
Shalani opened up about her life in a Facebook post about how she chose to be a runner, which was published by the page BeingYou:
She begins with starting off in an attitude of style, having worn bright purple nail polish on her toes the day she had to get them amputated.
She then explains the accident and how it escalated from a simple fever to a brush with death and the cutting off of her limbs.
She notes the anger and frustration she felt at first, unbelieving that she could have done something this wrong to have received this punishment, but how she eventually decided to move on and keep pushing forward.
So, she started to run, just at first to lose weight and get fit. However, the challenge was addictive to her, and she wanted more of it.
When she runs, she says she feels as if she has won over her body. She then looks back and says how wrong Destiny must have been about her, it didn't win, and she still called all of her shots.
It was her life, her decision, and her dreams, with her limbs or without her limbs.
Within hours of the post being made public, it drew in praise from all quarters and places.
People hailed Shalani for her undefeatable spirit and persistence to achieve her dreams.
Recent Posts

Submission of statement in Form No. 61 has

All villages shall have a sufficient number of

Watch the expressions of a toddler while her
What's new at WeRIndia.com