Rang De – A Bangalore Based Microcredit Entity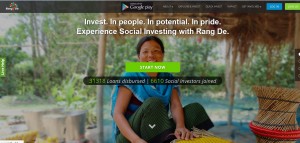 Rang De was started in Bangalore by a couple Ramkrishna and Smita with an aim to provide micro credit to undeserved communities. Thus, it wants to reduce the poverty in the society. It was started on 26 January, the Republic Day in 2008.  It is registered as a non-profit organization and the main focus of this entity is to offer fair interest rates to their borrowers. Rang De has been funded by the World Bank, Millennium Alliance, NABARD, ICICI Foundation and Trafigura Foundation.
Anyone can invest at least Rs. 100 or more in their organization which is funded to small businesses or education. They will receive their investment with a nominal return when the borrowers repay it in a scheduled time.
So far, 31318 loans were provided and 6610 social investors have joined. Their peer-to-peer lending model facilitates in achieving loans at lower rates of interest. Their revenue model is to cut 2% on all the repaid loans to attain their goals and long-term vision in the future. Rang De won achieved many awards including Ashoka Fellowship, Millennium Alliance Award, The India Digital Award, Bihar Innovation Forum Award, Bangalore Heroes, and Manthan South Asia Award etc.
What's new at WeRIndia.com