Odisha students create tallest robot from e-waste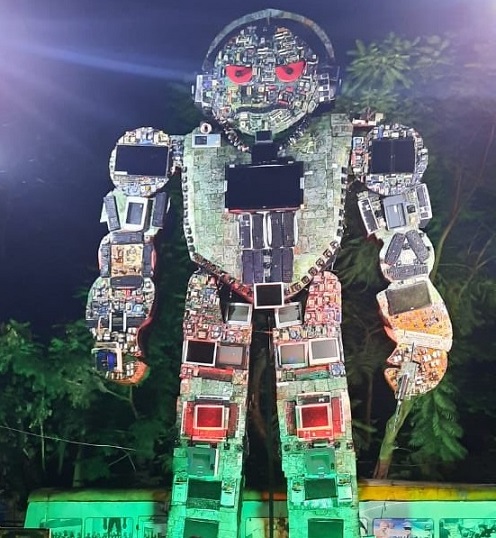 A team of trainee students from Industrial Training Institute (ITI) in Berhampur, Odisha, created a sculpture from e-waste. It is the tallest e-waste sculpture in the country with 30 feet long. It is named ROBO.
Around 30 trainee students from Electrician, Electronics and Painter trades of the government ITI, Berhampur, developed the unique sculpture using three tons of electronic waste. The electronic waste includes toys, PCB, RAM, printer, printer cartridge, keyboard, mouse, monitor, mobile phone, CD player, TV, and VCR.
The students had ample time to improve their skills and focus on new and creative things during the pandemic time. They utilized the opportunity and developed the sculpture.
The students procured the electronic waste mainly from the Berhampur Municipal Corporation (BMC) and ITI.
They designed this sculpture to convey the message to society that proper disposal of electronic waste keeps the environment clean. They also request people to be responsible for managing e-waste to reconnect with Mother Earth.
Notably, e-waste has been growing for many years due to the increase in the usage of mobile phones, laptops, desktops. Besides, many people are not aware of the proper management and disposal of e-waste. If it is not managed properly, it can pollute the air, water, surrounding environment.
That's why ITI students designed the tallest sculpture to grab the attention of people on the management of e-waste, using scientific methods. Besides, it is the tallest sculpture made out of e-waste; hence, they want to send their entry to the Guinness Book of Records and Asian Book of Records.
ITI Berhampur Principal Dr Rajat Panigrahy appreciated the efforts of the students. He said that they became responsible citizens by knowing the importance of managing e-waste properly, and they would save the earth from e-waste like warriors in future. Many other people also lauded their efforts and congratulated them on their achievement.
Image Credit: Siba Mohanty on Twitter
Image Reference: https://twitter.com/Siba_TNIE/status/1455557235912830977/photo/1
What's new at WeRIndia.com