Mumbai woman starts own venture at 79 years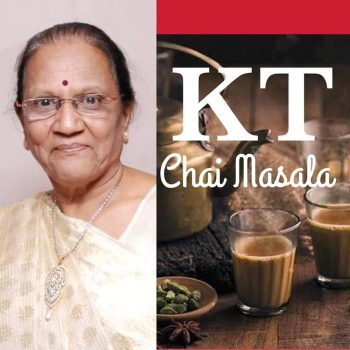 Age is just a number if you have a strong will and dedication to achieve. This Mumbai woman proved it by starting her own venture at the age of 79 years.
Kokila Parekh launched her brand KT Chai Masala during the lockdown. She is living with her son and daughter-in-law. She is good at cooking especially in making Gujarati food items.
She makes tea with special masala powder. She uses different ingredients like dried ginger powder, cardamom, pepper, lemon powder etc. in specific proportions to make the masala powder. It lasts for six to eight months.
The special masala powder recipe has been passed down from her ancestors. The family friends and visitors who taste the tea compliment it. Kokila Parekh says that the taste is due to masala powder.
It is quite common for the guests to take a pack of the masala powder from her when leaving. They also used to procure from her after they finish the powder. Masala powder improves the taste of tea and immunity.
During the lockdown, she had plenty of free time as she stopped going out to visit temples or any other places. Hence, she decided to make use of the time effectively. Considering the demand for her masala tea powder, she decided to turn it into a business.
She started selling the masala tea powder across the country and became an entrepreneur. She named it KT Chai Masala, the short name for Kokila and Tushar's Chai Masala. Tushar is her youngest son.
He helped his mother in staring business. He had taken care of everything from designing the logo, procuring good quality of raw material, finding the suitable packaging material etc. to ship the masala powder to reach the customers across the country.
KT Chai Masala receives orders through the Facebook page. The chai masala powder is available in different packs like 50 grams, 100 grams and 260 grams.
The price depends on the pack size ranging from ₹125 to ₹625. The delivery charge is applicable. So far, Kokila received more than 500 orders from different cities like Mumbai, Pune, Bangalore, and Ahmedabad.
Image Credit: KT Chai Masala on Facebook
Image Reference: https://www.facebook.com/KTCHAIMASALA/photos/a.104337171450408/104337128117079/
What's new at WeRIndia.com