Meet India's youngest drone builder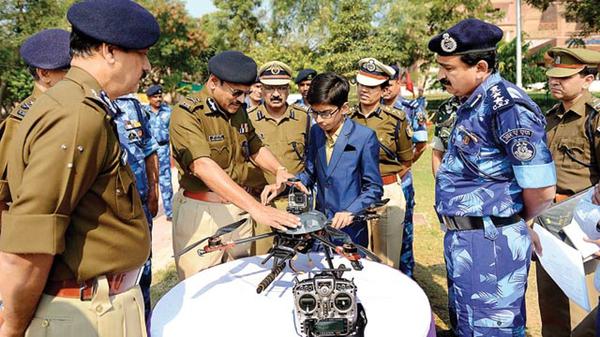 Harshwardhan Zala is the only son of his homemaker mother and his accountant farther.
When he was 10 years old, he created a remote control which could operate and control home appliances wirelessly.
At that time, there were no gadgets like his available in the market.
When Harshwardhan was 14 years old, he designed a smart solution that allowed drones to both detect and defuse landmines in war fields.
This can save many lives, especially since there are over 100 million active landmines around the world.
Now 15 years old, Harshwardhan is always looking to find technological solutions to save lives across the globe.
Harshwardhan would always be reading books about the problems in the world.
Whenever he could, he would visit a nearby cyber café for hours, watching YouTube videos about these problems.
He did not have access to the Internet at home. One day, Harshwardhan saw a video that showed how people die from exploding, undetected landmines.
He looked into this issue, and he found out that researchers had still not come up with a solution to this problem.
Harshwardhan worked on a prototype to solve this problem and went to different companies to tell them about his solution.
However, none of them took him seriously. While some companies advised Harshwardhan to complete his education, others outright dismissed him.
Now, Harshwardhan has founded his own company, thanks to the money that his parents put together.
He is the CEO of this company, known as Aerobotics7 Tech Solutions. Harshwardhan's drone has been unveiled.
It works by going into a field, surveying the ground, and sending real-time signals from its location to the nearest army base.
The drone drops a package onto locations to mark them. It also has a wireless detonator.
This detonator can be activated without risking any human lives.
Harshwardhan's drone is garnering military attention, not just from India, but from outside the country as well.
He is working with the Indian Army and the CRPF (Central Reserve Police Force) to clear out all of the landmines in India.
Once that is done, Harshwardhan wishes to share his technology with the world, in order to ensure that everyone is safe from undetected landmines.
Image Reference: Thebetterindia
Recent Posts

Amla Magic: 8 Ways Indian gooseberry transforms your hair

Here are 8 effective ways to incorporate Amla into your hair care routine.

BJP's Ishwar Sahu, a riot victim, triumphs in Chhattisgarh's Saja constituency

During the election campaign, Ishwar Sahu did not shy away from addressing the tragic events.

Bhopal's Sankat Mochan Hanuman temple dresses Gods in warm attire

In a unique and heartwarming gesture, the Sankat Mochan Hanuman Temple in Bhopal, Madhya Pradesh, has adorned idols of gods, including Lord Hanuman, Lord Ganesh, and Lord Shiva, with warm clothes to shield them from the cold winter air. A video capturing this thoughtful act shows the deities donning shawls and cozy attire inside the temple, reflecting a blend of spirituality and seasonal care.
What's new at WeRIndia.com