Meenakshi Amma – 79-year-old Kalaripayattu Practitioner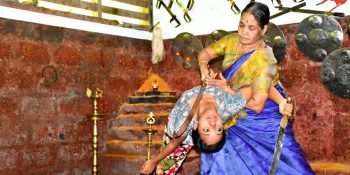 Age is just a number in case of a few individuals. It is very true for this woman and proved by Meenakshi Amma, a 79-year-old Kalaripayattu practitioner.
Meenakshi Raghavan is the oldest Kalaripayattu exponent in the country. She trains many students in this form of martial arts for free of cost.
She was born in Vatakara, Kerala. She was introduced to Kalaripayattu by her father at the age of seven.
At that time, she was learning dance and wanted to learn Kalaripayattu to increase flexibility in body movements. Her father took her to VP Raghavan Gurukkal to train her in Kalari. Raghavan Gurukkal had a training school.
In those days, girls were restricted from learning such martial arts. However, Meenakshi Amma created a new trend by joining the training.
Later, she was married to her guru Raghavan and became Meenakshi Raghavan. After the death of her husband, Meenakshi Amma decided to run Kalari school and became Meenakshi Gurukkal.
Meenakshi Amma has been training students for more than 70 years. She trains many girl students also. Her Kalaripayattu school, Kadathanadan Kalari Sangam has 150 students. There is no age restriction for students to join in the school. She has students in the age group of five years to twenty-five.
The season for Kalari starts from June to September. She conducts over 60 shows in a season. She is busy during the season. She even conducts workshops on Kalaripayattu and travels to various places like Bengaluru, Chennai, Hyderabad, Goa etc.
She was honoured with the Padma Shri award in 2017 and many other awards as well.
She has two sons and two daughters. All her sons, daughters and grandchildren are trained in Kalaripayattu.
Image Credit: Meenakshi Gurukkal on Facebook
Image Reference: https://www.facebook.com/pg/Meenakshi-Gurukkal-1999082100366946/about/
What's new at WeRIndia.com