Man earns ₹13 lakh by growing capsicum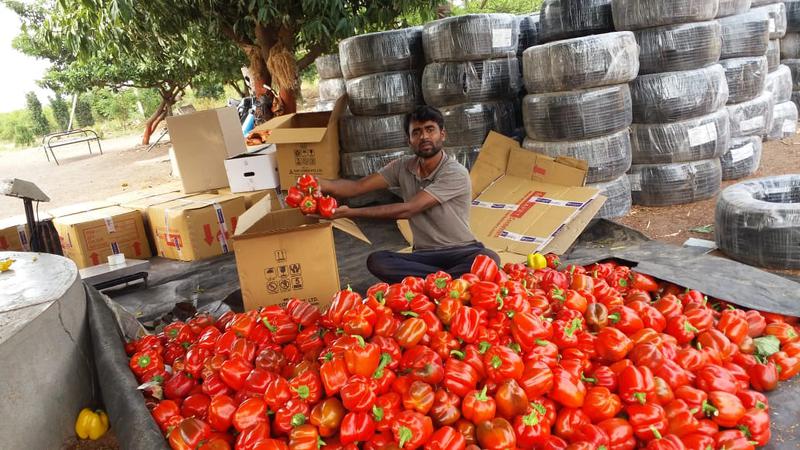 Like every village, Kadbanwadi in Pune also witnessed severe drought once. In those days, it was one of the drought-prone villages in Maharashtra.
Drinking water is a luxury for the villagers. But, now it has 100 farm ponds, 27 cement nala bunds, and 110 earthen bunds.
All this was achieved by the efforts of a retired teacher, Bhajandas Pawar.
Now, the village is popular for its practices and has become a model village.
His son, Vijayrao also studied in the same school where his father taught.
But, he decided to do job in the Maharashtra Public Service Commission after completing his BSc in Agriculture.
Yet, he could not get a job in it even after attending some rounds of interviews.
Vijayrao returned to his village with discouragement.
He decided to do polyhouse farming. It is a type of farming where certain climate conditions are controlled for growing vegetables and flowers.
Though the initial cost for this type of farming is high, it yields better returns and uses less water (drip irrigation).
Vijayrao attended a workshop for a week in Pune and applied for a loan of ₹30 lakh to setup the polyhouse in his one acre land.
He researched the market and found out that capsicums earned good returns. So, he decided to grow red and yellow capsicum.
Initially, he could not make too much profits, but now he gets ₹170 per kg for those capsicums.
He even exports his produce to Delhi and Mumbai.
He managed to earn ₹13 lakh so far.
He even got the subsidy of ₹18 lakh from the government authorities from the agriculture department.
He said that he maintained a balance between the chemical pesticides and bio-pesticides.
He expected to earn more profits in the coming years as there is a high initial cost which will be offset with time.
Image Reference: Thebetterindia
What's new at WeRIndia.com