Lakshmi Annapurna creates a Path to Traffic Sense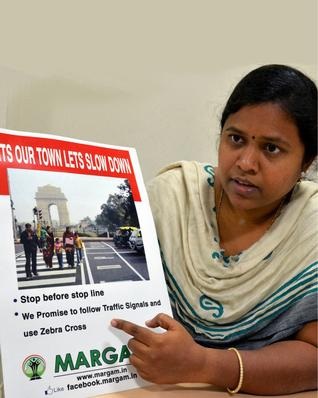 Time and time again it is proved that greatness comes through simple things. This time it is proved by a regular housewife Lakshmi Annapurna. After being troubled with the chaos of traffic that occurs every day, she dedicated herself in finding a solution for this problem.  With determination, she already took a step towards about this issue. Annapurna decided to instill some sense into traffic violators with her 'Margam' project. This is a quest by her to create traffic sense among people of Vijayawada.
During a speech delivered by a bureaucrat, she took part in it when audience were invited to express their concerns. Her concerns made a mark in her audience and now she started her mission to create traffic awareness in Vijayawada.
Due to the response she got from her small gesture in that speech, she decided to start 'Margam'. The word 'Margam' means path. The next step she did was to start a Facebook page to reach a larger audience. At present she is focusing on basic rules like zebra crossings and traffic signals. She feels that everyone should follow these but finds that many don't.
Before the project, Annapurna used to assist her husband in the garments' business. She stated that she always wanted to something to make a difference. The small speech she gave to express her concerns paved a way to help her reach her goal with project 'Margam'. It shows how small things can reach great heights.
What's new at WeRIndia.com