'Google boy' in Meerut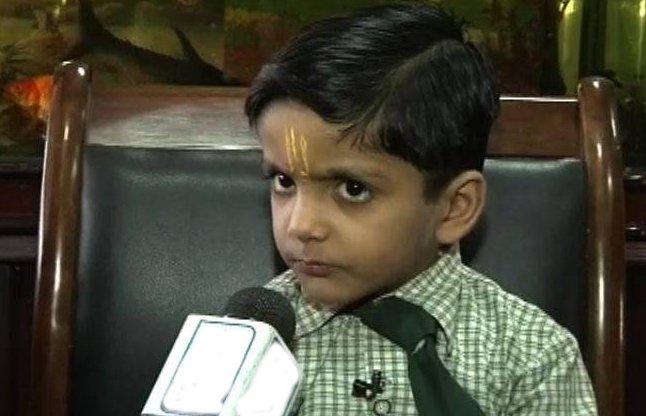 Anmol Swami – you might not have heard his name. But, Meerut people are well aware of him. This five-year old boy is renowned as 'Google Boy'. Why? Just like Google, he reveals the possible answers to the questions he is asked.
For instance, if anybody asks him "Who is the Prime Minister of India?" Then he starts answering from the first Prime Minister of India Jawaharlal Nehru to Narendra Modi, the current PM. Not only that, this boy is able to answer the capital of any country in the world without missing a single city. He is famous in the nearby districts of Meerut also.
The amazing fact about this boy is that he could not speak till he turned three. His parents took him to a doctor on this issue. Then, the doctor suggested his parents to admit him to a school. Interestingly, he began talking not just words but in full sentences as soon as he began to speak.
Anmol's talent was also revealed surprisingly. His mother was teaching general knowledge to his elder sister on countries and their capitals in a room where Anmol was playing. The next day, when she began asking her daughter the questions that were taught to the girl on the previous day, Anmol began answering them before his sister. This made his parents think about his memory and focus. In February 2014, a city-based school in Meerut gave the boy the title "Meerut's Google boy". He has two siblings. Due to his talent, all of the three were promised to get free education, uniform, stationery and conveyance till they finished their schooling. The school that arranged free education for the boy and his siblings is Adhyyan School in Meerut.
His talent stunned many political leaders as well. BJP's UP chief, Laxmikant Bajapai is one among them. He requested the Chief Minsiter Akhilesh Yadav on behalf of this boy to provide some monetary assistance to the boy. Though several institutions felicitated the boy in various ways, the government has not come his way so far. Hoping to help the boy, Bajapai requested the CM.
Image Reference: Patrika
Recent Posts

Are you ready to dive into the wonderful

Ravi Prasad from Kushinagar in Uttar Pradesh utilized

Watch the video in which an artist had
What's new at WeRIndia.com