Five-year old Boy Climbs Kalapattar Peak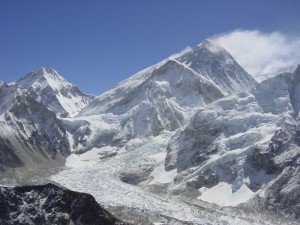 Harshit Saumitra, a five-year and 11 month old boy set a new world on October 17, 2014 as he successfully climbed Kalapattar Peak that is 5,554 metre high. He achieved this along with his father and two Sherpa guides. Earlier, seven-year-old Aryan Balaji reached Kalapatthar in May 2012 and set a world record. Harshit Saumitra broke the record by achieving it in a younger age.
Harshit is the son of a renowned mountaineer Rajeev Saumitra from India. He took 10 days to reach the base camp of Mount Everest which is covered in 7 days by normal people. Before going to high altitudes, his father took the necessary precautions for his safety and health.
Kalapatthar is higher than the highest peaks of three continents – Europe, Australia and Antarctica. After reaching the peak, the boy waived the Indian tri-colour flag and exclaimed "Jai Hind, India is the great" with cheer. The family members want to register the name of the boy in Limca Book of Records and Guinness World Records for setting a new world record by providing all necessary proofs and video clippings.
What's new at WeRIndia.com