Child Prodigy sets world record with extraordinary memory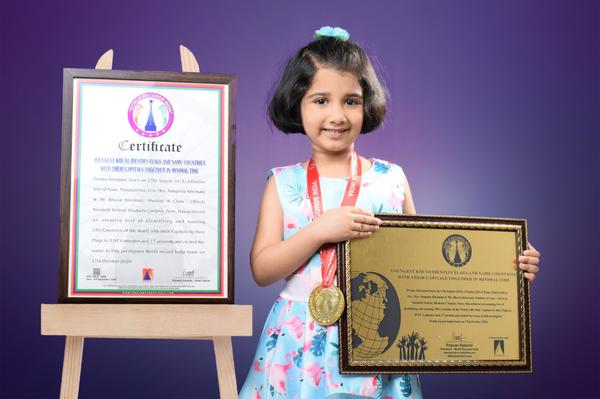 Now it is an era of whiz kids. Some of the kids mesmerize the world with their extraordinary talents. This five-year-old prodigy is one among them. Presha Khemani from Pune astonishes people with her unique memory.
Her father is a chartered accountant and mother is a homemaker. She can name 150 countries and their capitals. She can also identify their flags. Her name was entered in the World Records India Book for her memory and identification power of all these in just 4.17 minutes.
She became the youngest to perform the task for which she won the title of Youngest Kid to Identify Flags and Country Names.
Presha's mother Sangeeta Khemani said that Presha has been a brilliant not just in academics but in other activities also. When one of their family friends gifted her an Atlas during the lockdown, it created a curiosity in her. She used to ask her mother about each flag to which it is related to and it's capital as well. The little girl learned all of the things very fast and remembered them.
Observing the extraordinary talent of Presha, Sangeetha started to teach her different continents each week. The mother and daughter duo covered the total content of the book in just seven weeks. Presha has such memory that even though her mother forgets the name, she says the correct name. Her mother used to surprise at her memory. The little girl never confused identifying flags despite after their shuffling.
Presha's parents enrolled her name for the World Record India Book competition with the help of her school after recognizing the wonderful talent of their daughter.
They also sent a video of her answers on the contents of Atlas as asked by the officials. Later, they declared Presha as a world record holder and awarded her a gold medal. The little girl is now learning the names of currencies, languages, and world leaders.
Image Credit: Ians Tweets on Twitter
Image Reference: https://twitter.com/ians_india/status/1346775803086786560
What's new at WeRIndia.com