Chennai man performed eco-friendly wedding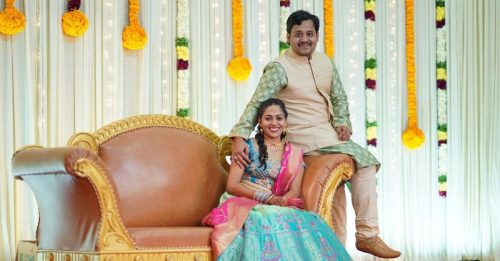 A man in Chennai performed the wedding of his daughter in an eco-friendly manner. His daughter, Nithya was engaged last May and her marriage was scheduled in December last year.
She asked her father to perform a green wedding. She has an interest in the conservation of natural resources.
Nithya was working with Namma Ooru Foundation (NOF), a Chennai-based NGO in their environmental projects.
As she asked for an eco-friendly wedding, her father agreed to that without compromising the comfort of the guests.
The green wedding initiative started with the invitation. Instead of plastic lamination, the father and daughter duo decided to use recyclable paper. They also mentioned their steps of performing a green wedding on the backside of the invitation. Only limited guests had been sent printed cards and others had been invited through e-invitation.
Stainless steel tumblers, cups, bowls, and cutlery were used to serve the guests water and meals. They mentioned on the invitation that they were replacing the plastic utensils with 'hygienic and safe' alternatives. Only 100 sets of these steel utensils were bought and the remaining were rented.
They avoided using artificial and plastic flowers for the decoration of the wedding hall. They opted for a mix of flowers, leaves, cloth drapes, and LED lights to avoid generating too much waste.
Nithya who was very particular about not allowing the garbage to go the landfill gave clear instructions on what to do. She invited the conservancy inspector of that area and discussed waste management.
After the marriage, the garbage was segregated. All compostable waste including food waste, the material used for wedding hall decoration and plantain leaves were composted organically.
The marriage had been performed as Nithya's wish. However, her father said that a green wedding was not as easy as thought. Yet, he was happy fulfilling the wish of his daughter.
Image Reference: Thebetterindia
What's new at WeRIndia.com