Bhubaneswar traffic cop goes viral with his dance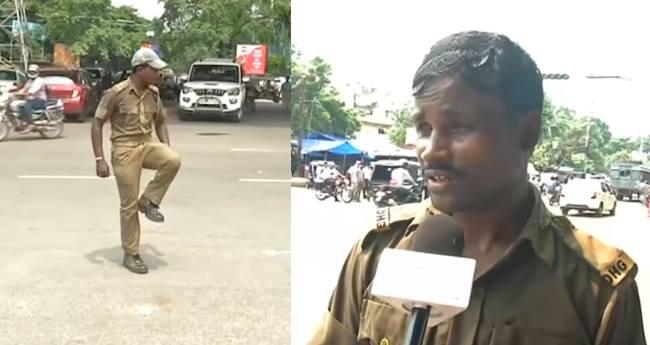 Getting stuck in traffic is not a pleasant experience for anyone. Imagine how much of a chore it can be for traffic cops who have to stand and direct traffic all day.
It is common to get irritated during these situations.
But that is not the case for this traffic cop from Bhubaneswar. He has not only figured out a way to keep himself in good spirits, but also entertain people.
Meet Pratap Chandra Khandwal, a traffic cop who has been working in the temple city for more than four years.
His specialty is his method of traffic direction.
Pratap shows a clear love for his job and also uses his actions to promote awareness among people about road accidents.
The 33-year-old cop strikes dance poses and uses dance moves to control traffic and grab their attention even in the busiest intersections. Sometimes, people choose to stay by the side and watch his show.
Talking about his routine, Pratap says that he likes to convey messages through his dance. In his experience, he saw that many people were not following traffic rules like they should. He wanted more people to respect the law and follow it.
He says that his style of approach has attracted many citizens to follow the law and respect it.
Pratap however isn't the only cop who is using his such methods to help the society and promote road safety.
Ranjeet from Indore is another cop famous for his moonwalk routine.
Ranjeet says he is a Michael Jackson fan and he has been using moonwalk routine to stop traffic since more than a decade.
When he first started it, many people were surprised to see Ranjeet.
However, people soon started liking it and Ranjeet became really popular. He spread awareness regarding following rules using dance.
Cops like this are helping the society while doing their jobs in a creative way.
Image Reference: Laughingcolours
What's new at WeRIndia.com