Award for a clean sweep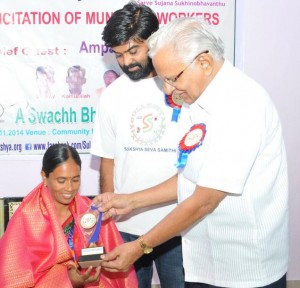 Swamy, Saraiah, Komuraiah, Sunitha and Bhagya would never have imagined that were going to get sweeping awards. Nor that each would be honoured with a shawl, a memento and a pair of clothes.
But it happened for a very good reason—they did a great job in cleaning their colonies.
The Sulakshya Seva Samithi awarded the municipal sanitation workers, applauding them for garbage collection at Srinagar Colony (South), a residential area at Hanamkonda, Telengana, on November 11.
The writer A. Naveen, who was also the chief guest, appreciated the Samithi and noted that cleanliness does not mean posing for publicity, but driving for sanitation.
The founder of Sulakshya, Santosh Manduva, pointed out that the municipal employees work round-the-clock.
Unlike in western countries, residents do not come forward to do their duty, but the garbage collectors need to be appreciated for it.
"The Samithi wanted to make them feel proud of their job.
Without these municipal staff, we cannot live in our localities for a day with filth all around us. It's our duty to recognize their contribution," said A. Naveen.
A rousing round of applause was given by the residents of the colony.
What's new at WeRIndia.com