72-year old farmer receives Padma Shri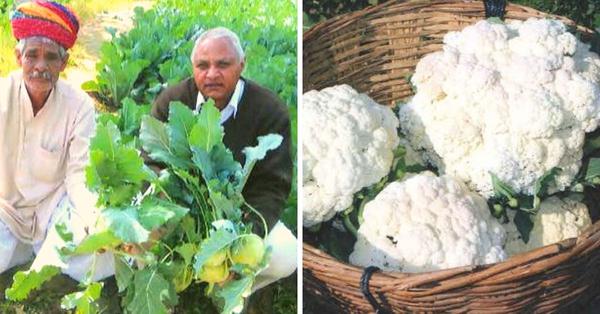 Jagdish Parikh, 72-year old farmer won the Padma Shri, India's fourth-highest civilian award for his extraordinary farming work.
He grows organic vegetables and inspires other farmers to grow them similarly.
His unique varieties of vegetables are highly nutritious. He has been an organic farmer for over 30 years.
The average weight of the cauliflowers that grows in his farm is 15 kilos and the size of pumpkins are 86 kgs.
While the regular ridge gourd is 1.5 feet, his farm ridge gourds are 7 feet tall. The brinjals are 3 feet tall and the cabbage weighs 8 kilos.
He was the recipient of the first National Grassroots Innovation Award conferred by The National Innovation Foundation by growing such a unique variety of cauliflower.
He even got a patent which he named as Ajitgarh variety after his birthplace.
Parikh's interest in farming began when he was 10 years old. He used to accompany his father and uncles to sell vegetables in the market.
He used to wake up at 5:00 a.m., go to the market to sell the product and then go to school. This routine continued for 10 years and increased his curiosity in growing vegetables.
Though he could not finish his final year of graduation he managed to get a job with the ONGC in Assam.
Yet, his earnings were not enough to meet his needs. He returned to his village and joined his uncle to work on his farm.
Later, he acquired land by inheritance after his father's death.
He started trying different methods to grow vegetables. He prepared his own fertilizers and used all organic measures that he learned on his farm.
Seeds and time management are crucial factors for Parikh's success. From sowing to harvesting, everything is done on time. He uses seeds from the last year's plants to grow the saplings.
Image Reference: Thebetterindia
What's new at WeRIndia.com