15-year-old girl wins NASA contest thrice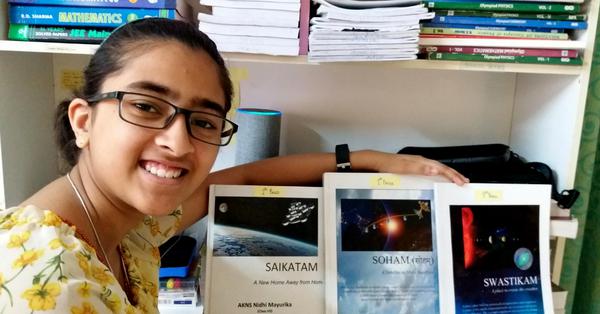 This 15-year-old girl has ambitions in the stars. Nidhi Mayurika, a 9th class student aims to become a cosmologist one day and she is already making waves.
When she was in the 7th class in 2016, she participated in the NASA Ames Space Settlement Contest and won the first prize.
Her winning did not stop there; she has now won the contest three times in a row so far.
Nidhi's interest for science started early when she was in the 7th class. She participated in science competitions held at the school level.
Her enthusiasm impressed many including her school principal who advised her to participate in the NASA Ames Space Settlement Contest (ASSC)."
Even at such a young age, she had amazing designs which impressed even the people of NASA. She developed a three-layered colony in space at her young age.
She called the colony 'Saikatam'. It is a colony meant for human settlement at the Earth-Moon Lagrange Point. The colony's design allows humans to survive, evolve and even self-sustain. She designed plans to be able to hold 4,000 humans and 1,000 domestic animals.
Since 2016 when she enrolled in the competition, Nidhi spent two hours after school every day study for her project. She even took the help of her physics teacher to learn new things.
That is not all, Nidhi enrolled for online courses in astrobiology from The University of Edinburgh, Boston University, the Australian National University etc.
After her first victory, Nidhi again participated in 2017. That year, her project was called 'Soham', a satellite launcher.
It is a habitable space colony located 350 km away from Earth at LEO. It can build and launch satellites. This project won her ASSC in 2017.
Again in 2018, she won the first prize at ASSC. Her project this year was a space colony called 'Swastikam'. It is built for synthetically designed organisms to adapt and evolve in the new ecosystem.
With her ingenious ideas, Nidhi will most likely win next year as well and become an amazing cosmologist in her future.
Image Reference: Thebetterindia
What's new at WeRIndia.com