Zify – Carpooling Services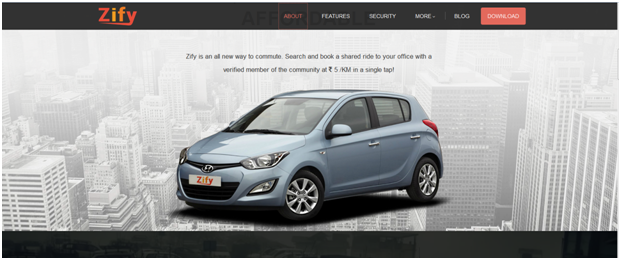 Zify is a new commuting service which allows the users to share a ride with just Rs. 5 per kilometer. Founded by Anurag, the services are currently available in only Hyderabad. Zify started services with a motto of "Daily Commute Made Simple".
Traffic woes are a common problem in metro cities. With emergence of more vehicles in the market daily, they have been increasing. To reduce them and to save money, carpooling is seen as a good remedy by many travelers. In this context, Zify started its services to make carpooling simple and easy. The website has a list of many verified car owners with ratings and available seats. Users can select their choice of car owners from them.
Zify allows comfortable ride with affordable prices. There is no need to pay cash after ride. It allows 'cashless payments'. Users have to recharge their accounts to use for their travel. Female passengers can have the flexibility of choosing other female passengers as their companions while travel. Pickup or drop-off points are there for hassle free travel and trips.
User verification is mandatory which can be done by way of obtaining government issued ID cards along with verified contact address. Emergency response team is ready round the clock to assist in times of need. They allow vehicles only after careful inspection.
What's new at WeRIndia.com