The Good Leaf offers beauty products made of Moringa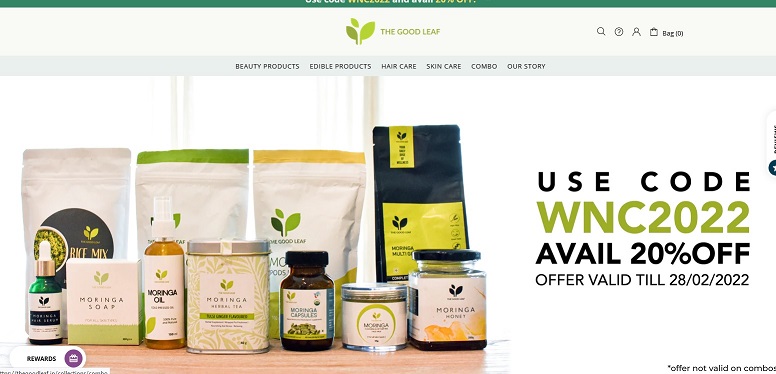 Usage of products with natural components has been significantly growing for the past few years. Several people are opting for products that have natural ingredients rather than chemicals.
In this context, many startups are also exploring ways to launch new and innovative products as a substitute for chemical products.
Deepika Ravi is one of them. She launched her startup to offer skin and hair care products made of Moringa (drumstick tree). But, her story is different.
Being hailed from an agricultural background, she wants to bring value-added agricultural products into the market.
Deepika from Karur, Tamil Nadu, witnessed the troubles of her father. He is a farmer of Moringa. Moringa is extensively cultivated in Karur, and its prices fluctuate throughout the year. Hence, she decided to launch a startup, The Good Leaf, to offer products made out of Moringa.
Moringa is widely used in Indian cuisine due to its nutrients, like vitamin A and C, and minerals like iron, calcium, zinc etc. Almost all parts of Moringa, including the roots, leaves, flowers, and drumsticks, are edible.
The Good Leaf was launched in 2018. It sources Moringa from farmers across various regions of Tamil Nadu, like Karur, Theni, Dindigul, and Velur. There are more than 200 farmers who provide raw materials to the startup.
Deepika says that they will provide farmers with organic fertilisers so that the startup can obtain organic material to make products. Besides, farmers are offered fair prices based on the quality and variety of Moringa they cultivate. In this way, the startup helps farmers get a uniform price throughout the year despite the market fluctuations.
The Good Leaf offers different edible products like chutney powder, Moringa rice mix, Moringa tea etc., in addition to beauty, skin and hair care products.
Their products range from ₹249 to ₹490. The startup also offers Combo packs. Now, the startup has a turnover of crores of rupees.
Image Credit: The Good Leaf Website Screenshot
Image Reference: https://thegoodleaf.in/
What's new at WeRIndia.com