SiCureMi offers personalized healthcare solutions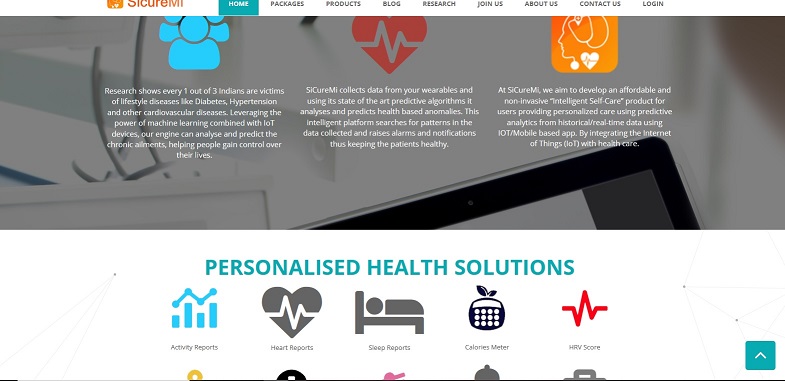 Many healthcare startups offer healthcare services in the country; still, there is a gap in this sector as the majority of rural people do not have access to medical solutions. Besides, only a few startups are integrating technology with healthcare to provide better solutions.
SiCureMi is one such startup that aimed to provide affordable and non-invasive self-care products to people. The startup integrates the Internet of Things (IoT) with healthcare for real-time health monitoring.
Tarun Gupta and Prakash Thakur launched the startup. Tarun Gupta says that many patients and their caregivers are not able to understand the prescription of doctors. They are unaware of the language used in the prescription. As a result, medicines are overused or used in inappropriate dosage. For instance, BD means twice daily, but many patients do not understand the term except the doctor or other healthcare worker specify the dosage.
In this regard, SiCureMi launched KYP (Know Your Prescription) in March 2021. It explains the prescription to users and addresses all issues related to it. It supports different Indian languages like Hindi, Bengali, Punjabi, and Malayalam, and English.
KYP is designed for common people to create awareness on the usage of prescription medicines. It explains the right dosage of medicines to be used at right time. Sometimes, people consume a drug with other medicines without knowing the side effects of combining them. Some others consume multiple dosages to compensate for the missed dosage. Some foods also interact with medications.
KYP educates users on all such issues. Patients are connected to a pharmacist or medical professional to help them understand their prescription thoroughly.
SiCureMi also designed an AI and ML-based prevention screening tool to detect chronic health conditions like cardiovascular diseases, kidney problems etc. The tool helps diagnose chronic health conditions in advance so that preventive measures can be taken.
This Delhi-based startup has over 5,000 unique paid customers. SiCureMi works on the B2C model. At present, it charges ₹30 per prescription. It wants to launch a yearly subscription model soon.
Image Credit: Sicuremi Website Screenshot
Image Reference: http://www.sicuremi.com/
What's new at WeRIndia.com