A selfie on your coffee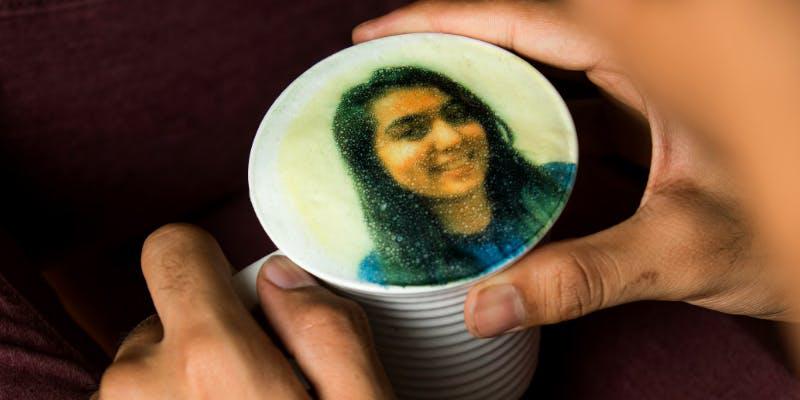 Jesal and Vidhi Desai used to practice more conventional work. Jesal founded businesses for catering, corporate gifting, and import management.
Vidhi worked in the tea and spices industry and was an enthusiast for digital research and marketing.
However, when the two of them came across a new and innovative cappuccino idea, they decided to take full advantage of it and introduce it to India.
Now, they have created Selfieccino, a coffee shop that lets customers take their own pictures and drink them too.
The pictures are printed directly onto the customers' drinks, and they taste just as good as they look.
Selfieccino took eight months to set up, and the Desai coup opened their first store in Kalaghoda in Mumbai on January 22nd.
They gave the store a fun and interesting environment, with turf on the floor and fake grass on the wall to give it a more natural feel.
The serving station is shaped like a food truck, and the café's menu is just as fun as its environment.
Options like bubble waffles and handmade churros entice the customers, but the beverages provide the highlight of the meal.
Customers can opt to have their selfie taken and placed right on their coffee or milkshake.
After customers take their selfies, they are given a phone number, and they must send their selfies in through WhatsApp.
The drink and the image are prepared simultaneously.
The whipped cream on the milkshakes and the hot milk on the coffees are placed evenly on top of the drinks, and after that, the image is printed onto the cream in full color.
Customers receive their selfieccino, which looks strikingly amazing and tastes just as good.
With over 4,500 users being served in the first month alone, Selfieccino proves how eager and excited people can be for new and enticing innovations.
Image Reference: Yourstory
What's new at WeRIndia.com