OGMO Foods offers millet foods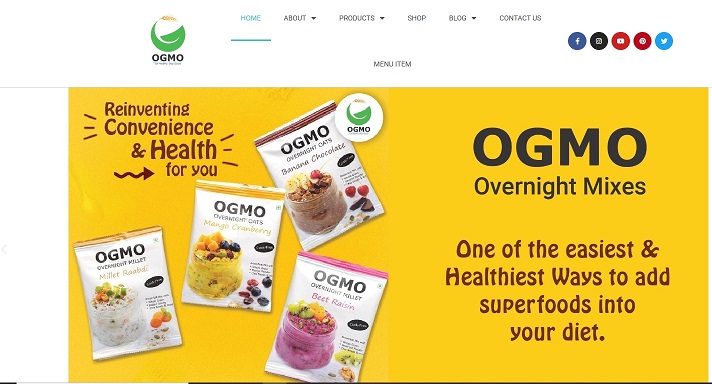 Nowadays, many people are opting for traditional food. Millets are one of the best-opted food products among people. Hence, many startups emerge into the market to offer millet foods.
Sanjeeta KK is one of them. She launched OGMO Foods in 2018 to offer millet-based products.
This Chennai woman was busy working in the corporate sector. But, a medical emergency twisted her life. She had to take a break in her career for over eight years.
After that, she wanted to resume her career. She thought of multiple options. Finally, she decided to launch a food brand. That's how OGMO Foods was born. OGMO stands for Organic Movement.
Sanjeeta employed many rural women. Having experience in the corporate world, she used to work systematically and organized. However, many of her staff were not even know how to read or write. They used to surprise by her work.
She had been cultivating organic vegetables and fruits. She used to visit the farm. One day, Sanjeeta met a few farmers who were growing millets near her farm. They said that they stopped millet cultivation due to no market and consumption for millets. They also said that millets could be grown with less water compared to rice or wheat.
It made her thought once again. She decided to start millet production. She sourced raw materials from local farmers and began the production in small quantities with minor millets like little millet, barnyard millet etc.
She then started millet processing to make various products like oats, overnight mixes, granolas, health mixes, snacks, baby products, whole grains, flours etc. The products of OGMO Foods do not consist of preservatives, artificial colours, and flavours.
The brand is slowly growing. Ready-to-cook pre mixes, health mixes, and energy bites are the best-selling products of the startup. The startup has many retail stores across Chennai and Pune.
Image Credit: Ogmofoods Website Screenshot
Image Reference: https://www.ogmofoods.com/
What's new at WeRIndia.com