NatureLoc offers homemade products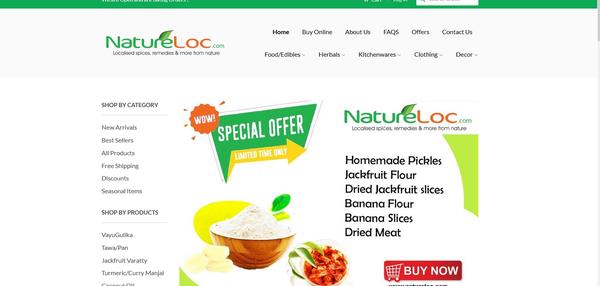 Different types of spices are used in Indian cuisine. These spices give a unique aroma and flavour to food. Besides, they are well-known for their medicinal value.
IBEF reports say that the demand for Indian spices has been growing across the globe. In addition to that, customers are opting for homemade products. Considering the demand for Indian spices and homemade products, Ebin Jose with his relatives, launched NatureLoc with an initial investment of ₹1 lakh.
NatureLoc aims to provide consumers with chemical-free and farm-grown products and spices. These products are sourced directly from local producers.
The startup initially offered honey, coconut oil, and arrowroot powder which now has grown to offer several products like curry powder, ghee, banana powder, pickles, rice products, tamarind, dried products and many more. It has more than 800 products from different categories like food products, textile, jewellery, home décor etc. Based on the preferences of the customers, the startup has been adding new products to the portal. The startup does not list other brands on their site unless there is a regular demand for the products from customers.
NatureLoc started its operations with two employees. Now it has 10 employees. They will look after the operations from procuring the material to packaging, shipping etc.
NatureLoc charges a commission on the products sold through their platform. They process around 2,000 orders in a month. The number increases during the festivals like Onam, Vishu, Barkird, Christmas etc.
Though COVID-19 affected their regular operations due to the nationwide lockdown, they witnessed more demand from the consumers.
It became difficult for the startup to procure products from suppliers. At the same time, due to the changed purchasing behaviour of consumers, they saw growth in online purchases. NaturLoc provides only online payments, and it does not have cash on delivery facility.
Image Credit: Natureloc Website Screenshot
Image Reference: https://www.natureloc.com/
What's new at WeRIndia.com