GoFarmz offers fresh organic food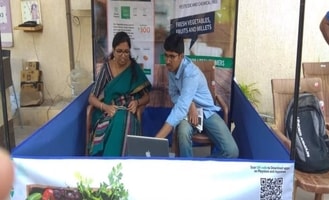 Health consciousness is at a peak now among people. As a result, several startups related to health come into the market daily.
Among these, agritech startups mainly focus on providing fresh produce to their customers.
And a majority of them act as a bridge between customers and farmers. Customers who opt for organic produce are increasing, but they are not sure about the reliability of the produce.
At the same time, the farmers find it difficult to sell their organic produce at a reasonable price.
That way, these startups help both the customers as well as farmers.
GoFarmz also came into live to solve the problems of the farmers. The co-founder of GoFarmz, Ramaraju Lakkamraju realized that the farmers in the rural areas of Telangana were facing troubles in marketing their produce.
He established this startup along with his cousin, Suribabu Lakkamraju.
GoFarmz is a good platform for farmers that grow organic vegetables, fruits, and millets to sell their produce. The produce of farmers reaches the customers through the website or the app on a weekly basis.
The motto of GoFarmz is to deliver farm fresh fruits and vegetables to their customers within 24 hours of the harvest.
Ramaraju's father is a farmer. Hence, he had known the difficulties of the farmers.
The GoFarmz team started collaborating with farmers by practicing natural methods and ZBNF practices of cultivation.
They also check the authenticity of the products they sell by visiting the farms.
The company acquires the produce from registered farmers. Then it adds 15 per cent to the price of farmers in addition to the delivery charges and others if any. The end price would be decided based on that. The produce would be delivered to the customers at the end price.
They have 15 plus farmers and 3,000 registered customers. On average, it delivers 100 orders each week.
Image Reference: Yourstory
What's new at WeRIndia.com