Computers can make learning fun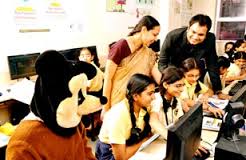 Education is a burden and a grind that everyone has to go through—the hard way. Rupesh Shah, a researcher at the Indian Institute of Technology (IIT) Bombay, wanted to simplify the delivery system. How could academic learning become simpler, he wondered.
The 27-year-old Shah came up with some ideas. By coordinating with his supervisor at IIT, Sridhar Iyer, he launched InOpen Technologies in October 2009, through which the team tried to make learning simple and accessible. So they started Computer Masti, which makes computer education "fun" through graded learning programmes for students right from kindergarten to the intermediate level. It involved text-books and training support for teachers.
The content was conversational, involving a couple of children, Tejas and Jyoti, involved in a conversation with Moz, the teacher, learning computer science in the process. Apart from making computer learning "fun", it was involved at making learning logical.
It became difficult to get all schools to accept the learning, but gradually it came to be accepted by everyone. After the first year, almost 2,000 schoolchildren were using it. Soon, Computer Masti began to be taught through eight Indian languages, and subsequently, it branched out from schools in Maharashtra to Bihar, Assam and Kerala.
Computer Masti is a product that is used by 5 lakh students in 300 schools, with 4,000 teachers. The company works with state governments as well as corporates to develop the relevant content. InOpen Technologies has also taken up expansion into different subjects, and in collaboration with the Homi Bhabha Centre for Science Education as well as the Tata Institute of Fundamental Research, Mumbai, it launched a number of science books for primary students. Its e-books have even been downloaded in 130 countries.
With 71 employees at its Mumbai and Hyderabad offices, it got a turnover of about Rs 6 crore in 2013-14. The current year's aim is to reach out to 1,000-1,200 schools across the globe.
What's new at WeRIndia.com