ClearMeat sells lab-grown chicken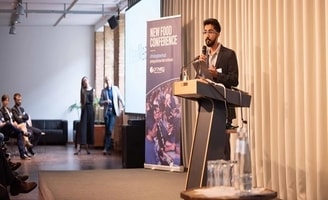 Consumption of meat products is growing in the county. But, do you know that the cattle rearing produces methane?
Methane is more harmful to the environment than any commercial vehicle on the road. Studies also show that methane can damage the environment 28 times more than carbon dioxide.
The methane is produced due to burping of cattle with the kind of food they are given in order to get more milk, wool and meat by their owners.  
Now, as environment consciousness has been increasing everywhere, consumers are opting for eco-friendly products wherever possible.
Karthik Dixit from Nagpur is one among them who realized the harmful effects of meat consumption is destroying environment and the need of alternative meat products.
He met Dr Pavan Dhar and Dr Siddarth Manvati, scientists at Jawaharlal Nehru University to grow cells in a lab and clump them into protein and thereby put a check to the environmental damage.
ClearMeat emerged as a result in 2018.
ClearMeat is a Delhi based startup to provide lab-grown protein to save the earth. The startup claimed to be the first clean meat startup in the country.
It is working to create an edible chicken keema using chicken cells. There is no need to cull the bird for this, just the cells are extracted and it will be left freely after the process.
ClearMeat established a lab in JNU at present to work on creating edible protein at an affordable price.
Currently, the artificially gown meat's cost is two times that of mutton per kg. But, the founders want to bring it to an affordable rate and believe to bring down the price to less than ₹200 per kg.
The founders pooled in their own money to experimenting the product and to bring it to the market.
Image Reference: Yourstory
What's new at WeRIndia.com