UV sanitizers to disinfect currency notes, mobiles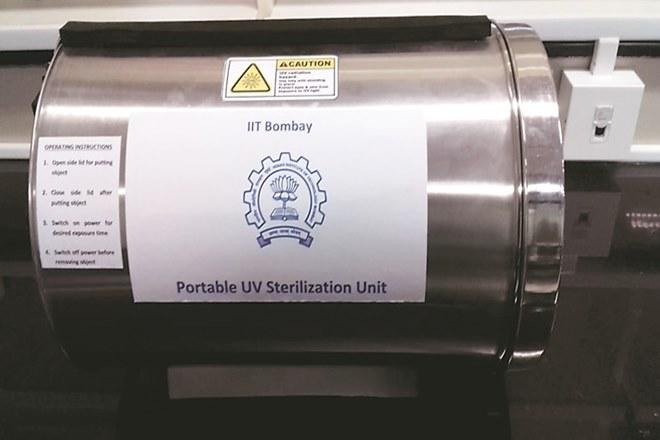 In the wake of COVID-19 transmission, usage of disinfectants has risen. Several people use disinfectant solutions to clean their mobile phones. However, many people have no clue about disinfecting currency notes.
In this context, IIT Bombay students developed a portable Ultra-Violet (UV) sanitizer to disinfect currency notes and mobile phones.
The portable sanitizer can also be useful for disinfecting small things like wallets etc.
Sanitizer gels available in the market cannot be used to disinfect files, papers etc. Hence a team of Industrial Design Centre (IDC) students and professors at IIT Bombay developed this portable UV sanitizer.
Dean (Research and Development), IIT Bombay Milind Atrey says that his team will experiment to check the dosage of UV sanitizer needed to disinfect various surfaces in the coming days. So far, the trials have been conducted only inside the lab.
Stainless steel kitchen containers and aluminium mesh have been used to prepare this UV sanitizer. The designers were inspired by a study published in Pubmed by the U.S National Library of Medicine. They took the study as a basis for designing this sanitizer.
The study shows that ultraviolet C light can reduce the effectiveness of Severe Acute Respiratory Syndrome (SARS) Coronavirus. This light can also be useful in fighting against Nipah virus and in reducing the spread of Crimean-Congo Haemorrhagic fever.
The developers said that they need material from outside to produce the sanitizers on a large scale. The team is also working to develop different models to sanitize bigger surfaces.
Apart from developing the UV sanitizer, the institute made cotton masks which are reusable to be given to the staff working there. It produced 100 masks in the initial phase. It aims to produce more than 1,000 masks in the coming days.
Image Reference: Financialexpress
What's new at WeRIndia.com