Three Cool innovations for summer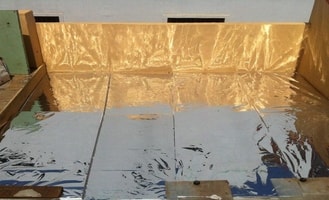 In recent years, summers in India are drastic and unbearable due to their severity. There are many methods to overcome this.
Jugaad is one of the methods and most Indians love it. Indians are masters of it. There are many such innovations. But in this article, let us see three of such innovations.
Here are some cool innovations to beat the summer heat:
Arecanut leaf cap protects your head from heat. This is made by children who felt bad after seeing unprotected heads of a traffic cop in the peak summer afternoons. These leaves are found abundantly in Kerala. They used dried arecanut leaf sheaths by cutting them in the shape of police caps. They then soaked them in water and placed them in the caps to protect the head from the summer heat.
Aluminium foil roof is another jugaad. Dr A Jagadeesh, the Director of Nayudamma Centre for Development Alternatives in Nellore used this method to beat the summer heat. First place the gunny bags on the roof of the rooms you want to cover. Then, pale thermocool sheets on the bags and cover them with aluminium foil sheets without any air gaps. Then place bricks on the sides to keep it stable. This reduces the room temperature for up to five degrees Celsius.
DIY AC is another solution to keep you cool this summer. There are many DIY ACs available on YouTube. Yet, Thiruchi-based tyre mechanic, K Akhtar Ali made an AC-EC. This AC contains a bamboo basket, bubble watercan, small bunch of vetiver grass, a terracotta pot and few plastic bottles. In addition to that it needs a simple motor to power the AC.
Image Reference: Thebetterindia
What's new at WeRIndia.com