Teen makes eco-friendly grow bags from recycled plastic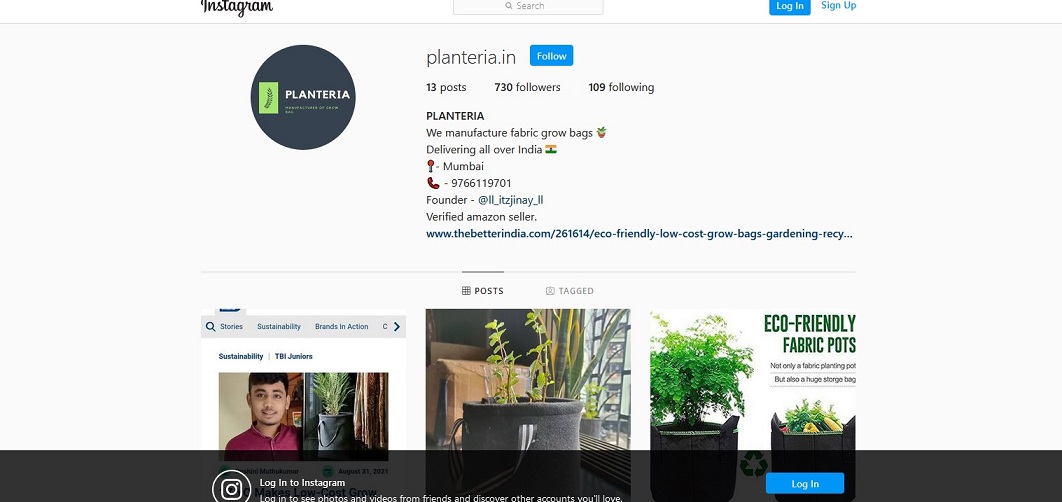 Usage of plastic has many adverse effects on the environment. However, its usage cannot be banned completely due to many reasons. Hence, many environment-conscious people have been exploring ways to reduce its usage. Some of these ways include reusing plastic or usage of recycled plastic.
A 17-year-old boy from Mumbai also wants to explore ways to reduce plastic usage. Jinay Gada launched Planteria to sell grow bags made from non-woven fabric. This non-woven fabric is extracted from recycled plastic bottles and covers.
Jinay's innovation came from his personal experience. During the lockdown, Jinay started gardening at home.
He grew many flowering plants and vegetables. When he wanted to buy lightweight planters for his plants, he could not find them in the market. He realized that most of the planters available in the market were either too expensive or were made of plastic.
It made him think to find out an eco-conscious solution. Hence, he made lightweight grow bags from non-woven fabric.
He started experimenting with different materials. He bought non-woven fabric to make grow bags. However, he found some issues like improper water drainage with them. At last, he finalized a supplier with whose material he was satisfied. He bought the material in bulk and gave it to a nearby tailor to stitch it into bags.
He also distributed some bags among his close friends and relatives to test them. The grow bags made by Jinay are lightweight and sturdy. They can drain water from the bottom and sides. As they are porous, they have good air circulation from all sides.
Jinay made four different sizes of grow bags. While the smallest grow bag is priced at ₹50, the largest is available for ₹120. He started selling through social media channels. He sold 200 bags within two months of launching them in the market.
Image Credit: Planteria's Instagram Page Screenshot
Image Reference: https://www.instagram.com/planteria.in/
What's new at WeRIndia.com