Suvidha Brush for easy bathroom floor cleaning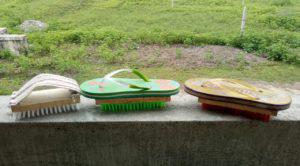 Bathroom floor cleaning is one of the toughest cleaning tasks especially for people with back pain.
This 12-year-old boy designed an innovative way to clean it with ease. His jugaad helped his mother who is suffering from back pain and spondylosis.
Bodhisatva Ganesh Khanderao, a 12-year boy has been in the news with his initiatives towards environment since the age of six years.
His mother Amruta is suffering from spondylosis due to which she felt difficult to clean bathroom floor.
Bodhisatva wanted to find a solution to the problem.
After a few experiments, he designed the Suvidha brush. The brush is fitted to the sole of slippers so the wearers of slippers can clean the floor without bending.
One can wear the slippers and move the feet around the floor by holding onto the support of a wall in the bathroom to clean the floor.
Bodhisatva initially experimented the brush with a discarded cycle tyre and asked his mother to use it. She felt very happy as she could clean the floor with ease.
He then modified the brush design by fitting it with a cotton belt to turn it into a slipper. Later he attached a slipper on the top of the brush. His mother asked her acquaintances to use it to know the feedback.
She ensures that the design is foolproof and there is no risk of slipping even with the use of detergents or cleaners to clean the floor.
The brush does not require more than ₹35 to make; hence it is affordable. It lasts for many months.
The boy and his mother spent hours to name the brush and at last, they decided to name it as 'Swachchta Suvidha brush'.
Meanwhile, the young boy is working on a super low-cost, fully-functional car model.
Image Reference: Thebetterindia
What's new at WeRIndia.com