Smart socks that can treat leg pain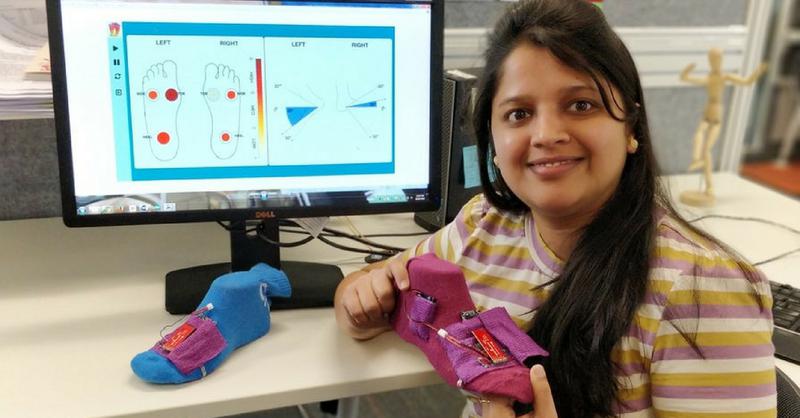 Imagine just wearing socks to diagnose your leg pain. That is exactly the kind of technology made by Deepti Aggarwal, a PhD scholar at the School of Engineering at the University of Melbourne, Australia.
She developed some unique socks which can be described as "smart socks". These socks can help a physiotherapist easily diagnose and treat injuries of patients. This technology is made to help people from areas with less equipment nearby.
These smart socks are called SoPhy. All the patient has to do is wear them. It gives real time information to physiotherapists about a patient's lower body movements.
Aggarwal got the idea to make these socks when she saw that her father who lives in a small town could not travel to the city for treatment.
She saw how hard it is to treat injuries without equipment in remote and rural areas.
Furthermore, the cost of treatment became too much because of the travelling involved. It was at this moment, that Aggarwal decided to do something about it.
She wanted to make sure people in remote areas can get access to healthcare for their leg injuries. Aggarwal says that Physiotherapy is all about movement and it needs proper monitoring.
She says that in order for physiotherapists to clearly assess the patients' recovery, they need to observe subtle differences in the movements of patients.
The existing video consultations which are used to monitor patients has some problems.
It lacked the ability to observe subtle differences in lower limb movements of patients. It was hard to get an idea of shifts in weight distribution and range of foot movements.
Aggarwal wanted to solve these issues as well. The SoPhy consists of a pair of socks embedded with three sensors. The sensors store information about weight distribution, the range of movement and the foot orientation for their lower limb movements. Using foot sketches, a web-interface will help the physiotherapists read the information.
Image Reference: Thebetterindia
What's new at WeRIndia.com