Smart Portable device reduces maternal mortality rate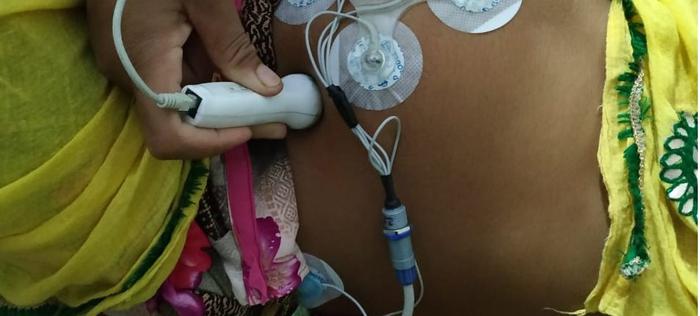 Maternal mortality rate (MMR) is the number of maternal deaths associated with pregnancy and childbirth-related issues.
These include anemia, infections and internal bleeding. Though the rate has been reduced over the years, it still remains a cause of concern.
Arun Agarwal founded a startup to address the issue. He developed a non-invasive cardiotocography (CTG) technology to track key parameters of pregnant women in real-time before and after delivery.
The technology is a combination of both hardware and software and easy to understand. The device is called 'Keyar'.
Keyar is a wearable device. It has an electrode patch and sensors to record the heart rate of fetus and pulse rate of the mother.
It even records the uterine contractions. The recorded readings are transmitted into a mobile application 'Daksh' developed by Janitri and generate a partograph.
The doctors and staff nurse can track this vital information and compare with the standard WHO intrapartum protocol.
This graphic record help doctors assess labour progress and reduce the mortality rate.
The inbuilt algorithm also helps generate alerts in the event of complications.
Arun Agarwal says that in a country like India, it is difficult for the staff nurse to record the vital data of pregnant women, their progress in real-time and track it after delivery due to several constraints.
There are several issues related to fetal heartbeat and uterine contractions. If these issues are addressed, then the maternal and fetal mortality rate can be reduced.
This device can display the parameters in a graphical format and help doctors assess the situation so that they can take an early decision to prevent mortality.
Arun says that the existing CTGs available in the market are expensive and non-portable.
But, Keyar is a portable device which is priced at ₹45,000, that is 1/3 of the price of a normal CTG.
Moreover, it is easy to operate as it can run on a battery.
Image Reference: Thebeterindia
What's new at WeRIndia.com